SL-TLC1cv DC Analog Throttle - Pure DC output; 0 to 24 V @ 6A
ANY scale - G, O, HO, N, or Z!
Price: $159.95 New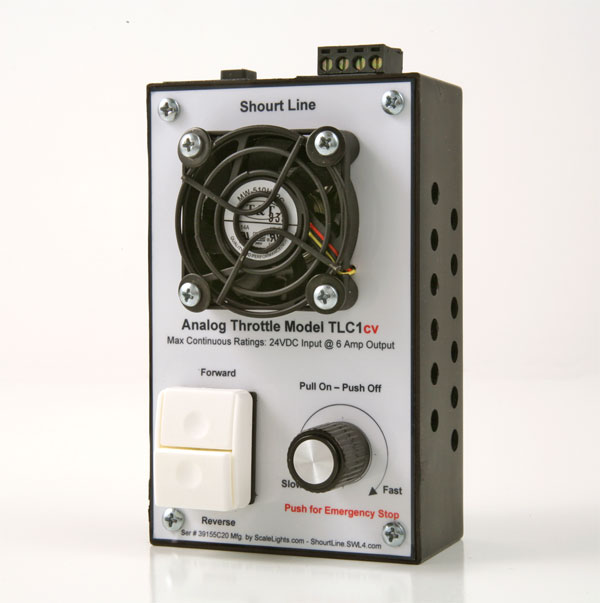 Features: (photos show TLC1 throttle which look identical to the TLC1cv exceipt for graphics)
AC or DC Input voltage at 10 to 24 volts
Low noise fan with zero noise at low output power
15 amp output stage - conservatively rated at 6 amps continuous
Low noise, brushless fan with auto speed control
The TLC1cv Throttle uses an input of 10 to 24 volts AC or DC. Cooling is provided by a bushless fan powered by a voltage regulator to allow variable input voltages to match the scale you are using. The throttle employs a 15 amp output stage but is conservatively rated at 6 amps continuous output. This unit is both a table-top and a hand held throttle.
The picture above shows the tabletop configuration with input/output connectors on top. The connectors can be placed on the bottom in less than two minutes by removing the faceplate and rotating the case 180 degrees as shown below.
In this configuration the unit is ideal for a palm held or walk around throttle with the input/output connectors coming out the bottom.

The throttle is a perfect match for our 24V 32.5A 800VA SL-PS800-3-28 32 amp power supply by ShourtLine shown above. The supply has two protected 6.25 amp outputs that match the TCL1cv throttle perfectly. The SL-PS8003-28&TLC2cv shown above includes two throttles. .

The throttle also has a coax input for use with our 20V 3A 60VA SL-PS60-1-20 . Shown above is the SL-PS60-1-20&TLC1cv SET with track clips for fast and easy setup.

The throttle features a large forward/reverse switch and a quick response throttle. An exclusive emergency stop feature turns off all power output by simply pushing down on the throttle. Pulling the throttle out restores power.
Mfg: Made in the USA by Scale Lights - Soft Works Ltd.
Input Voltage: `10 to 24 V AC or DC
Input Current: 6 amps continuous at 24 Volts
Output Voltage: 0 to maximum input voltage
Output Current: 6 amps continuous
Cooling: Provided by a low noise, voltage stabilized, speed controlled, ball bearing brushless fan.
Dimensions: 5.25L" x 3.25W" x 1.5"H (2.5H with throttle knob height") Palm Size for optional walk around use.
Weight: 1 Lbs.
Connectors:
1 ea. 2.5mm power coax socket for DC input

You may use this coax socket with several of our UL approved power supplies, for total LGB compatibility and 3 amps of power at 20 volts pure DC use our model SL-PS60-1-20
SL-PS60-1-20

20V 3A 60VA

For the maximum voltage of 24 volts and 1.67 amps of power use our model SL-PS36-1-24
SL-PS36-1-24

24V 1.67A 36VA

You may also use similar rated sources of DC power that have a standard 2.5mm plug size. Battery power may also be used but an in line fuse of 6 amps must be installed to avoid overloading your locos or throttles.

1 ea. 4 terminal block screw connector for 22 to 14 gauge wiring


Two terminals are available for input power when the coax power jack is not used. These are used to connect the throttle with the SL-PS200-1-27 tor he SL-PS800-3-28 power supply by ShourtLine as shown below.
SL-PS200-1-27

24V 8.3A 200VA

SL-PS200-1-27&TLC1cv&Track Clips

24V 8.3A 200VA

SL-PS300-1-27

24V 12.5A 300VA

SL-PS300-1-27&TLC1cv&Track Clips

24V 12.5A 300VA

SL-PS800-3-28

24V 32.5A 800VA

PS800-3-29&TLC2cv&Track Clips

24V 8.3A 200VA

The other two terminals provide adjustable continuous pure DC power to your LGB trains or other DC loads.