SL-PS60-1-20 New 20 Volt 3 Amp DC Regulated Switching Power Supply for Analog DC or MTS DCC use.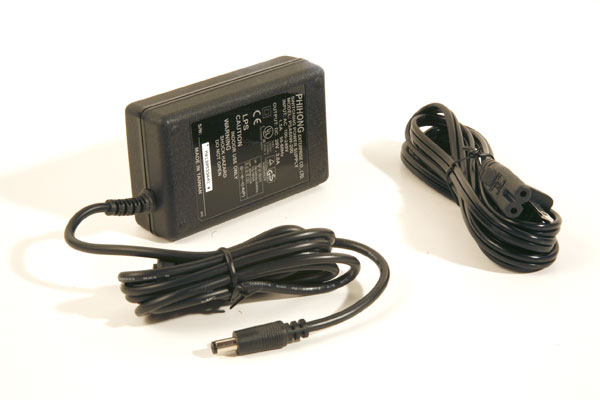 Price: $29.95 New
Features: The SL-PS60-1-20 regulated switching power supply outputs 20 volts at 3 amps. This supply matches our analog throttle SL-TLC8F (Click here to view) for DC operation.
The power coax plug attached to the supply plugs directly into our SL-TLC8F (shown on the right) for a complete solution to run multiple G Scale Trains with full interior lights.

This combination provides 60Watts (VA) of power and 20VDC PURE LINEAR POWER at 3 Amps. Set up is very simple - just plug into the wall, plug the power jack into the throttle and hook up track wires - see photo below.

The power supply also has a coax plug for use with our TLC1 Throttle shown above with track clips in our SL-PS60-1-20&TLC8F SET (click her to view). The coax connector make set fast and easy to use.

The supply may also be used with most DCC bossters for MTS (Multi Train Systems).
Mfg: Made in the Taiwan by Phihong Enterprise Co., Ltd.

Input Voltage: 100 to 240 VAC 50-60 Hz (autoranging)

Input Current: 1.5 Amps Max

Output Voltage: 20Volts

Output Current: 3ADC (DC Amps)

Output Current: 60VA (60 watts)

Dimensions: 4L" x 2.25W" x 1.25"H

Weight: 9 Oz.

Connectors:

1 ea. 2.5mm power coax plug for output power that matches the power input connector of the SL-TLC8F (Click here to view) Analog Throttle or other throttle with a minimum of capacity of 3 amps at 20 volts or greater voltage. The coax connector center is positive.

1 ea. AC connector socket that mates with the AC line cord that is suplied with the power supply.

Cables: 1 ea. 6' 6" AC power cord. 1 ea. 5' 9" DC output cord attached to the supply..

Safety approvals: UL and CE Listed.