SL-PS320-1-27F&TLC13H SET With AC/DC Cables and PIKO Track Clips - 24V 13A 320 Watts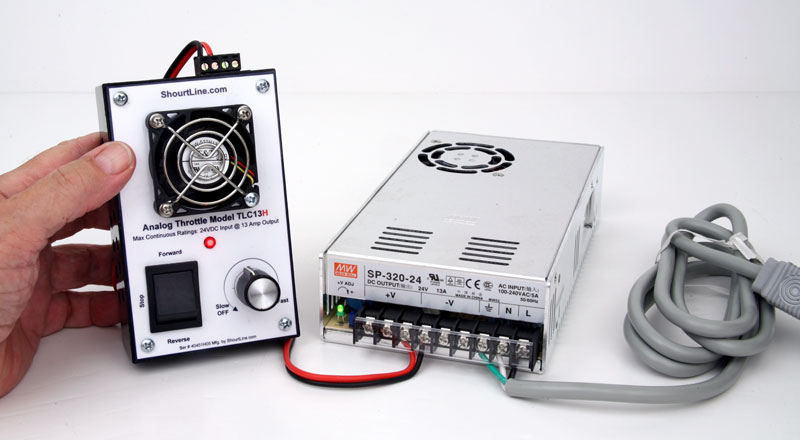 SL Discount Price: $289.95
Buy it Now (Credit Card/PayPal) Price: $302.12
Features:
This set combines one SL-PS320-1-27F regulated switching power supply outputs 24 volts at 13 amps SL-PS320-1-27Fp supply with 10' power cord w/On/Off Switch, one 13A 24V SL-TLC13H throttle w/ 10' DC power cable and and one PIKO 35270 Quick Connect Track Power Cable with clips.
The set outputs over 12 times the power of LGB's 1 amp toy power pack. The 24 volt output is safe for all G scale trains, as it can be adjusted from 18 to 27 volts, while providing continuous power that outperforms 15 amp toy power transformer-throttles made by other manufacturers.
The set has automatic fault detection and power restoration when the fault is removed. This set will easily run 8 trains with interior lighting. The power supply is regulated and outputs 24 volts at 12.5 amps with very smooth throttle response. Set-up is very easy as the power supply coax power cable plugs directly into the throttle and the track clips quickly attach to your track without tools.
Set Includes:
One SL-PS320-1-27F 24 Volt 12.5 Amp 300 Watt regulated switching power supply. Cooling is provided by a low noise, bushless, auto speed controlled fan for quiet and operation.
One 6 foot 16 guage three conductor power cord w/ molded 3 prong plug
One SL-TLC13H 13 Amp throttle. Cooling is provided by a voltage regulated, low noise, bushless, ball bearing, auto speed controlled fan for ultra quiet and reliable operation.
One 10 foot 16 guage two conductor power cable to connect throttle and supply
One each PIKO 35270 Power Clamp w/Wires 1 Pair for easy track connection (Made in Germany)
SL-PS320-1-27F: SL-PS320-1-27F regulated switching power supply outputs 24 volts at 13 amps 320 watts and has a terminal strip for easy connection to the SL-TLC13H throttle. A 5 foot 115VAC grounded cable with grounded plug is provided for connecting to house power. The output voltage can be adjusted from 18.4 to 27.4 Volts DC from the front pannel control. A plastic guard protects user from voltages.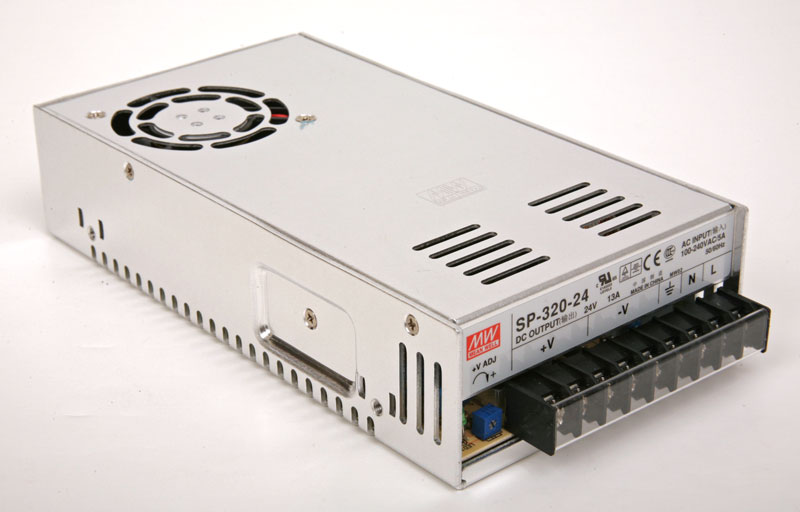 SL-TLC13H: The SL-TLC13H Throttle has a mini-terminal strip for connecting the SL-PS320-1-27F power supply. Cooling is provided by a voltage stablized auto speed controlled bushless fan for reliable operation. The throttle employs a 30 amp output stage but is conservatively rated at 13 amps continuous output. This unit is both a table-top and a hand held throttle.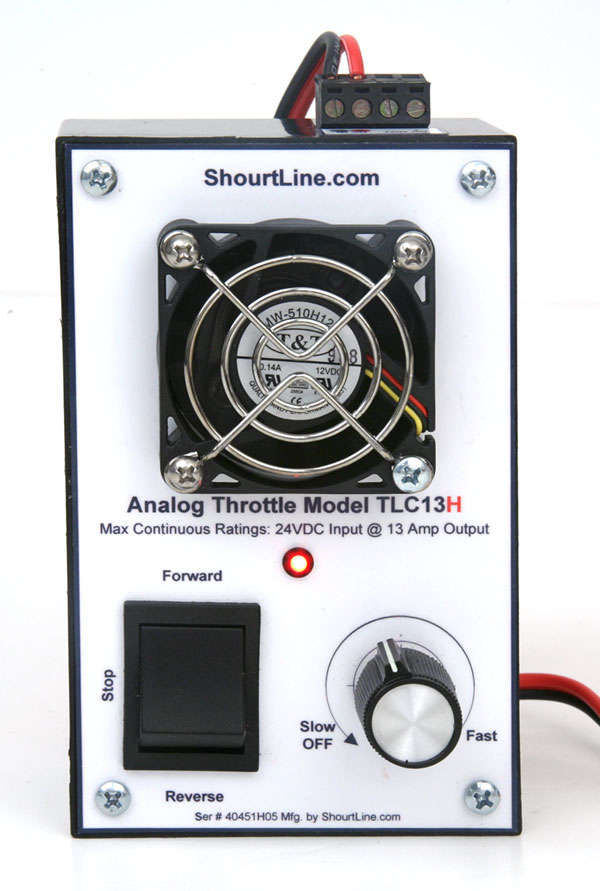 The picture above shows the tabletop configuration with input/output connectors on top. The connectors can be placed on the bottom in less than two minutes by removing the faceplate and rotating the case 180 degrees as shown below.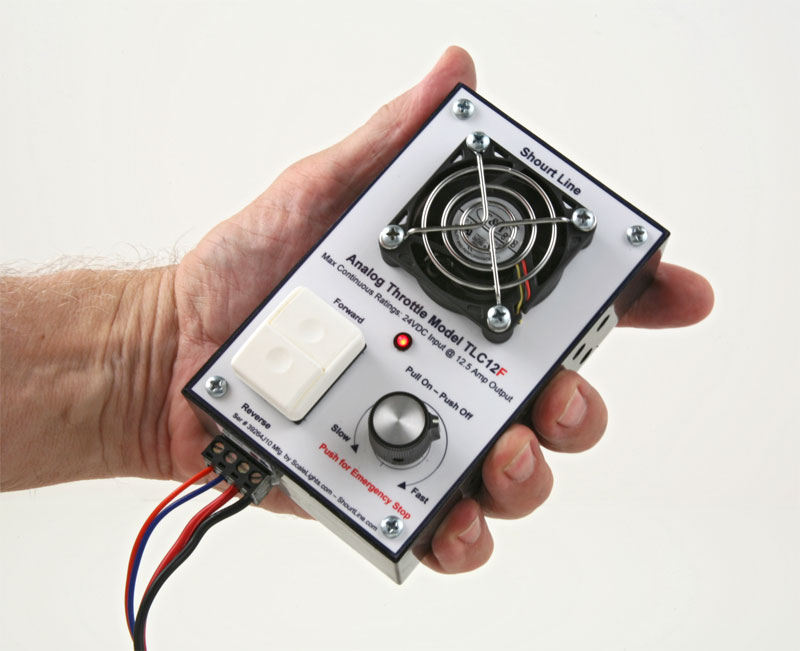 In this configuration the unit is ideal for a palm held or walk around throttle with the input/output connectors coming out the bottom.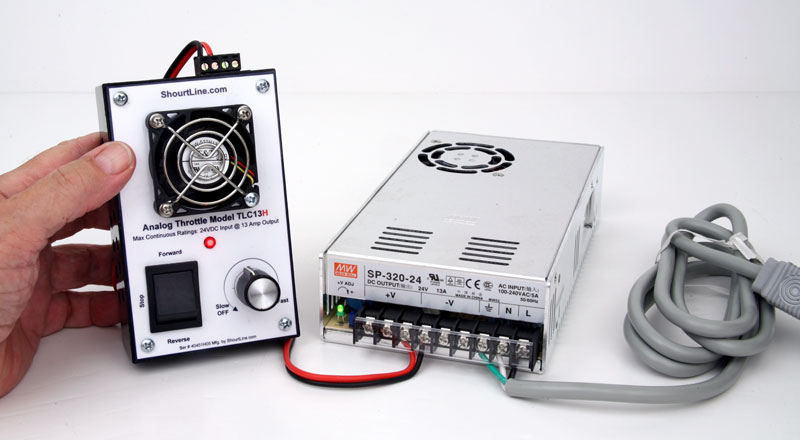 The throttle features a large forward/stop/reverse switch and a quick response throttle. The stop position discounnects the throttle from the track.
A PIKO 35270 Track Power Cable is included in the set to easily connect the throttle to your track.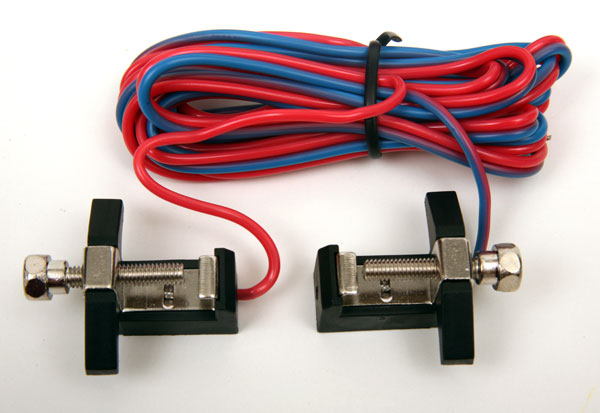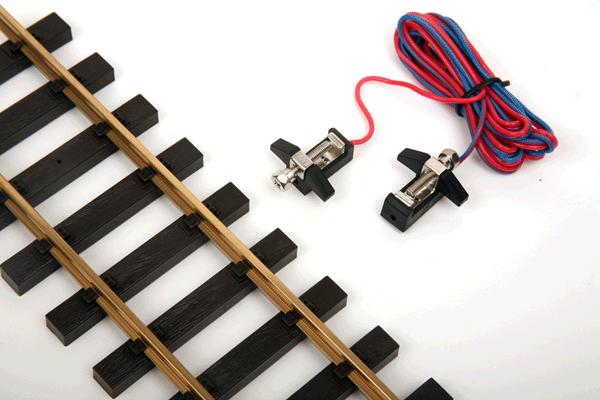 ..
Features: Click on the item links above for detailed features and specifications on each item.
This set is ready to run, just plug into house current, attach the PIKO track clips and run! (track and loco not included)