Shourt Line 4 LED Recessed Lighting Drop Ceiling with 2 Power Leads for short G Scale Cars
Ready to run; pre-wired
Shourt Line Product Number:
No. 8104210 for DC (analog power 4 to 24 volts) $31.97
No. 8104220 DCC (DCC, MTS or AC 18 to 24 volts) $28.77
Kit version; all parts, wiring and components with instructions - assembly required
Shourt Line Product Number:
No. 9104210 for DC (analog power 4 to 24 volts) $15.98
No. 9104220 DCC (DCC, MTS or AC 18 to 24 volts) $15.98

Direct From Manufacturer- Made in the USA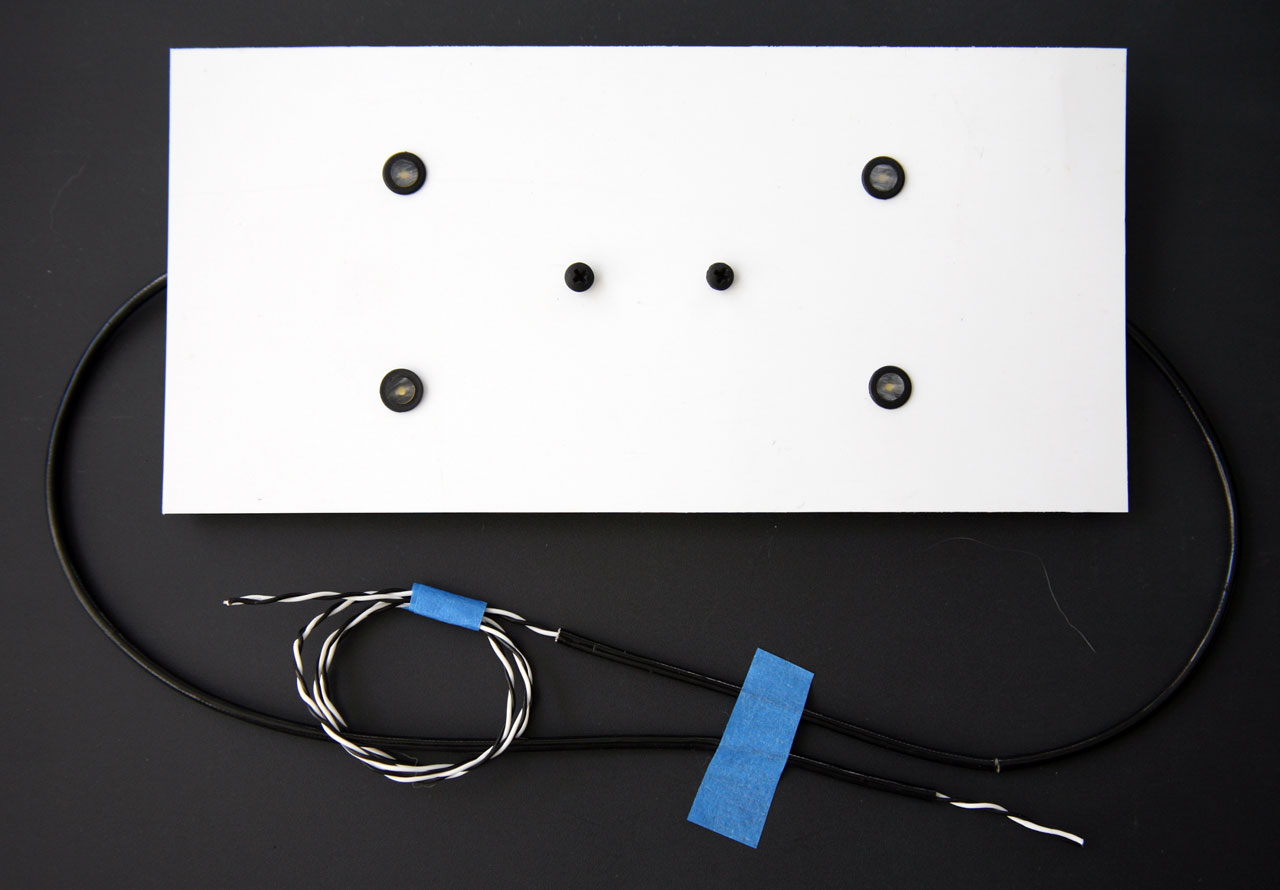 For questions on this item or details on our professional repair, restoration and digital sound decoder installation services Call 310-622-4431 or email us at info@ShourtLine.com
Description:
An easy to use G-Scale drop ceiling recessed lighting fixture for short length cars that features a full size reflector. All wring and circuitry are hidden behind the drop ceiling. 4 LED recessed lighting fixtures provide full illumination at extremly low track voltage (4 to 30Volts DC, AC or DCC model 8104210) or very low current (15 ma 8104220) from a hidden regulated power circuit. Connect direct to track power or battery and you are ready to run.

The kit version includes all parts, wire mounting hardware, wire, cable and instructions. The ceiling is precision cut and has holes for mounting the LEDs with bezels. Soldering and/or wire-wraping required.
Advantages:
Life time warranty (return to dealer or Shourt Line for repair or replacement)
Protypical Appearance; No visible circuit board, electronic parts, sockets or wires
Warm white flat LEDs match the color temperature of your locos lighting.
LEDs are bezel mounted for clean protypical appearance
Easy and fast mounting in seconds (kit version requires assembly)
Easy hookup
Works with any track power
Hidden circuit and wiring
Low cost
Two versions for low voltage or low current operation

model 8104210 (9104210 kit version) for full lighting at 4 to 24 volts at 0-80 ma for DC analog or MTS/DCC
model 8104220 (9104210 kit version) for low current operation at 0-20 ma at 18 to 24 volts for MTS or DCC
Specifications:
Warm white flat top wide angle LEDs
Regulated ultra low voltage current limited circuit
Maximum current:

0-80 milliamps (.080 amps max) for DC (analog) model 8104210
0-20 milliamps (.020 amps max) for AC, MTS, DCC version model 8104220

Operating Voltage range

4 to 24 volts DC, AC or MTS/DCC designed for DC (analog) model 8104210
18 to 24 volts DC, AC or MTS/DCC designed for AC, MTS, DCC model 8104220

Fixture size: 85mm Wide X 170mm Long ( or specify LGB model number when ordering for an exact ceiling fit)
Power wires: 2 each two conductor cable 460mm(18") long X 24 AWG
Made in the USA by the Shourt Line
Mounting Instructions:
LGB short length cars: Use the two supplied mounting screws to attach to the roof mounting studs located on the inside of the car roof. Optionally use the high temperature self adhesive strips to attach the lighting fixture to the roof of the car.

Non-LGB cars: For cars without LGB style mounting studs use the high temperature self adhesive strips to attach the lighting fixture to the roof of the car.
Hook-up Instructions:
For powering from car wheels : Route one or both power leads from the light fixture to car wheels. The supplied black cable provides a prototypical appearance.

For powering from a loco or another car: Route one of the power cables to the front of the car using a Shourt Line 4128210 LGB round mini-banana power connector kit. For LGB square style power connectors use a Shourt Line 4128310 LGB square 2 pin power connector kit.

Two extra long cables provided for any type of wire routing. Please contact the Shourt Line for help in selecting best lighting solution for your cars and type of train control and track voltage.
Optional upgrades: (see our store for details)
Dimmer for DC analog or DCC version dims 0 to 100% and can be installed to allow dimming by rotating any roof vent.
Massoth 8FL Decoder for MTS/DCC remote on/off and digital dimming + 7 extra functions
Lighting Power buffer for flicker free operation on DC or DCC
Lighting Gold Cap buffer with up to 5 minutes of lighting without track power
RC (Radio Controlled) Dimmer with 0-100% dimming and On/Off via remote control key fob transmitter and car mounted receiver
Photos: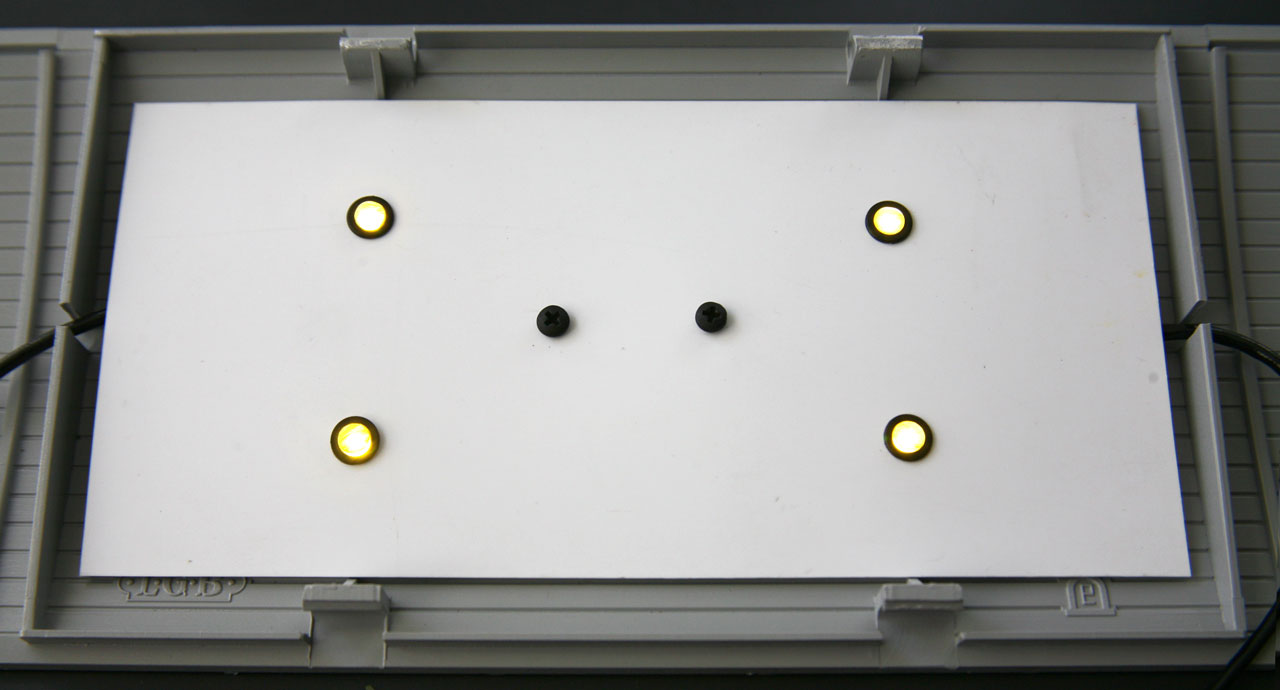 The large reflector provides even illumination, hides the circuit components, electrical parts, wires and keeps wires in the wire channel of the roof for easy roof removal and replacement. The reflector provides room to route wires down the inside walls of your car for wheel power pickup. (Ball bearing wheels sets and carbon bush power pickup kits available at our store)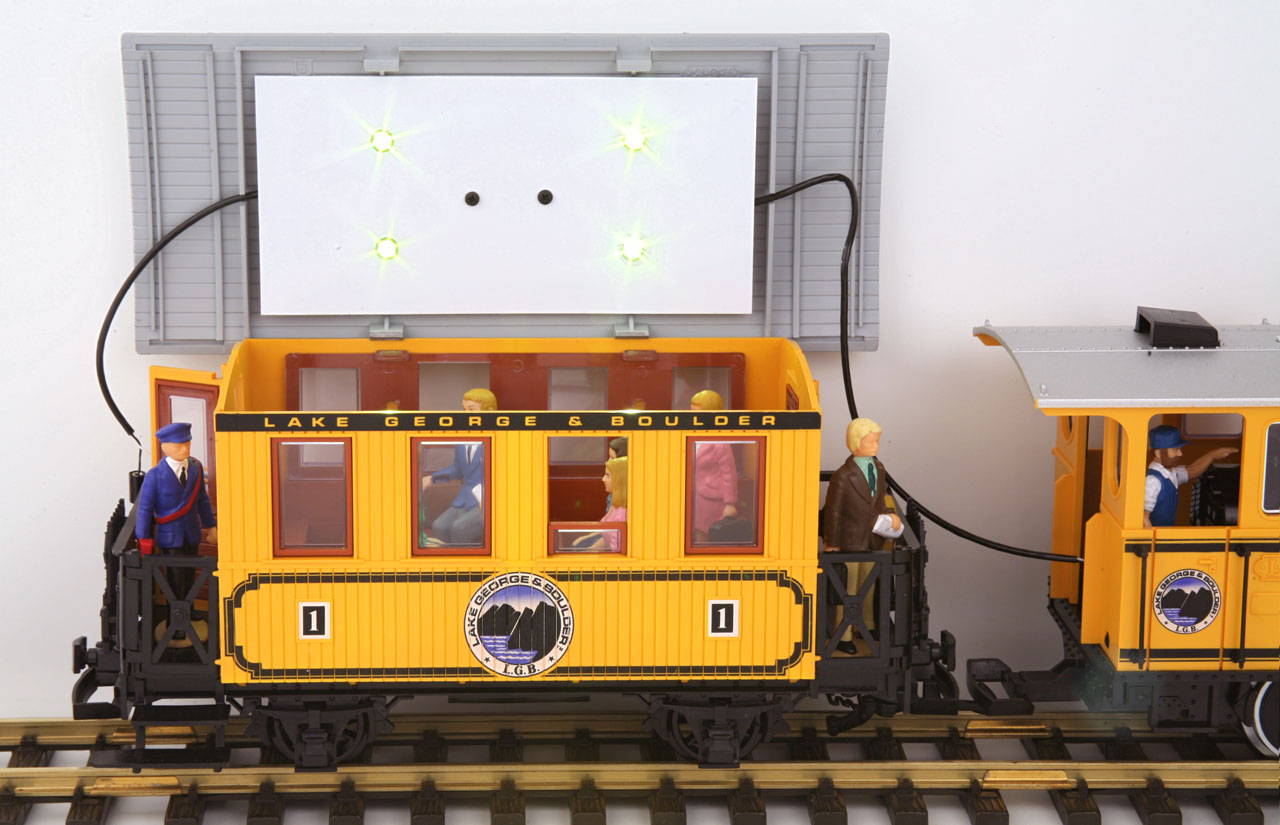 Typical installation using loco power and a Shourt Line LGB round connector kit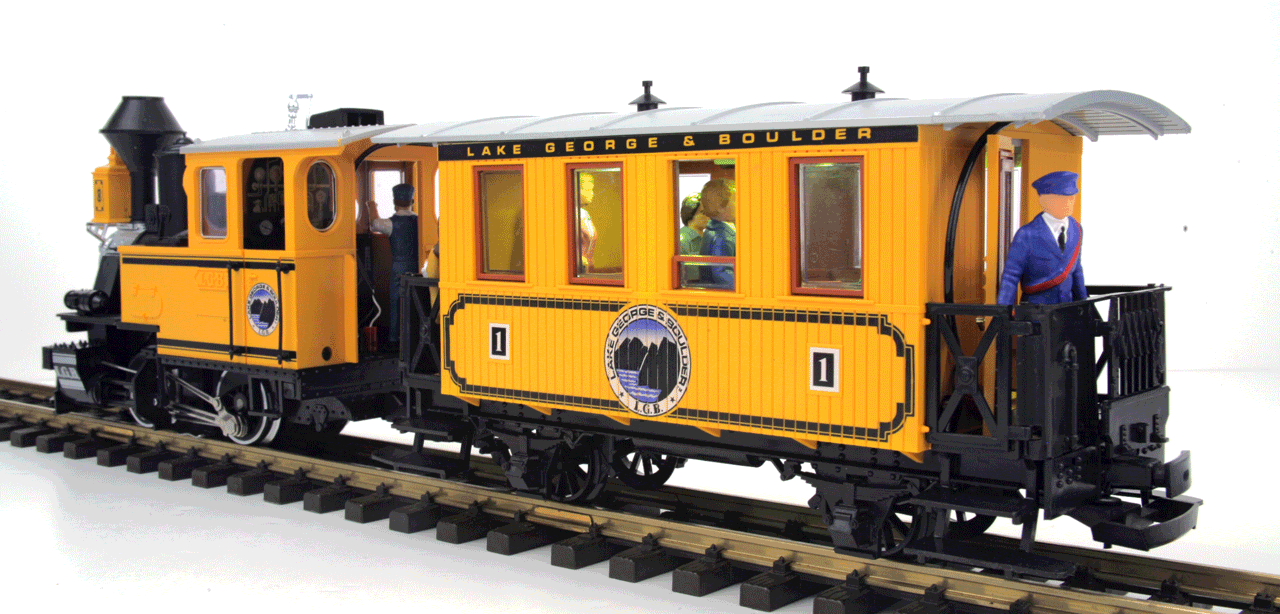 Note that the second power cable can be used to power following cars, shown above behind the conductor at the rear of the car.


The supplied black sheath protects the wires and makes a super clean and prototypical appearance as shown above.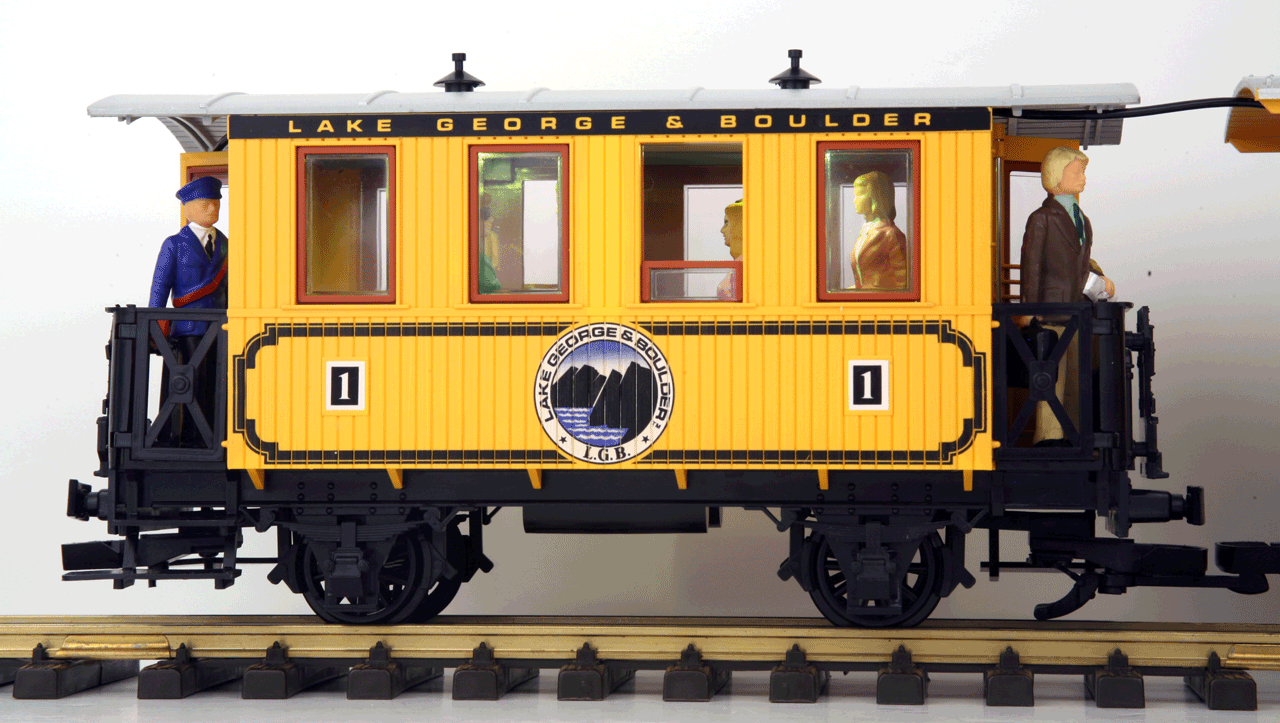 Don't leave your passengers in the dark!
For indoor or outdoor use
Questions? Email info@ShourtLine.com by clicking here
Thanks for looking - Shourt Line by Soft Works Ltd.
copyright 2011 ShourtLine.com - Soft Works Ltd. all rights reserved