SL5V2L245C 3 Volt Dimmer Controlled Duel Light Kit
ANY power DC DCC (MTS) or AC
Price: $29.95 New - includes electronics, cables, flat connectors, 4 mounting screws, light reflectors, 4 bulbs (2 are spares) and instructions.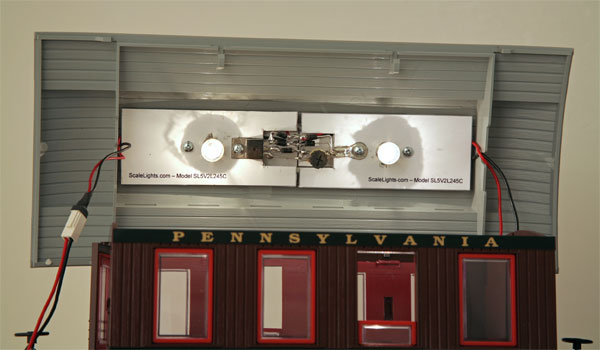 Features: This lighting kit fits LGB 8 wheel short passenger cars like those of the LGB 72323 and LGB 72323 starter sets. This lighting kit uses LGB style flat ribbon connectors at each end for pass through power and stringing units together. The dimmer provides full control from off to full bright (0-3 volts). The systems use inexpensive 1.5 volt flash light bulbs that are supplied with each kit. The kit is ideal for DC, DCC or AC power use.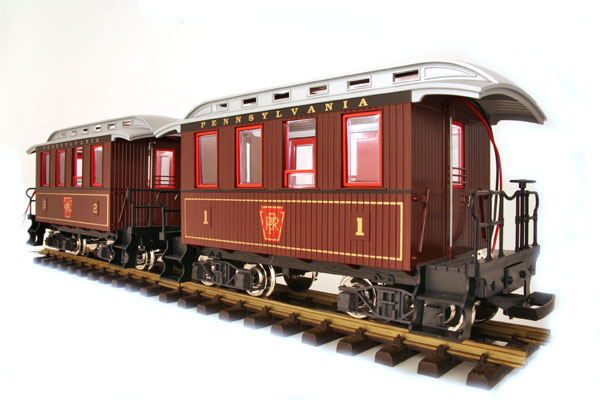 These two coach's are upgraded with SL5V2L245C 3 Volt Dimmer Controlled Duel Light Kits. At full brightness the lights are clearly visIble even during the day! The 2 large white bulb reflectors are provided to evenly distribute light throughout the car.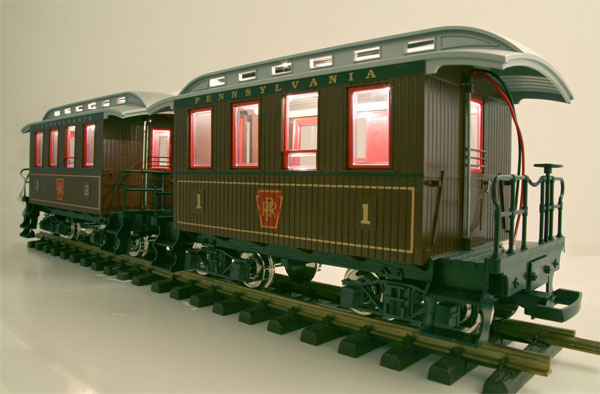 The lights are also very dramatic at night and are powered with your choice of DCC, DC (analog) or AC power. With DC (analog) power the light levels reach full birghtness before the LGB voltage stabilized locomotive lights. This means that the each car has full lighting at very slow train speeds. When powered with DCC or AC power the lights stay at the dimmer setting you select regardless of train speed..
Mfg: Made in the USA by Scale Lights - Soft Works Ltd.
Installation: Takes 5 minutes and requires a small screw driver
Input Voltage: 0 to 24 VDC, DCC or AC
Input Current: 0 to 300ma.
Output Voltage: 0 to 3 volts
Output Current: 1.5 amps continous at 24 VDC max.
Cooling: Provided by two full size white bulb reflectors
Dimensions: This lighting kit fits LGB 8 wheel short passenger cars like those of the LGB 72323 and LGB 72323 starter sets.
Weight: 4 oz.
Connectors:
1 ea. LGB female input connector (fits LGB Locos and tenders)
1 ea. LGB male output connector (fits LGB flat female connectors like the one above)
Product History: This lighting kit was developed for customers that wanted to be able to see the lighting effects in daylight and also be able to dim them for night running. In addition, users wanted full bringhtness at low throttle voltage on DC control while also working with DCC and AC power sources. Low cost was also important, both purchase price and bulb replacement cost. Last, users wanted a kit that was easy to install and operate with plug and play capability regardless of the power source.