This kit includes everything you need to get started with the best wireless throttle control available for MTS (LGB type I, II and III standards) and DCC (NMRA standard) control. Just hook up to your track, plug it in, and run all your legacy LGB locos as well as all NMRA compatible decoder locos and accessories

This kit provides 8 amps of wireless MTS/DCC control from a 12 Amp 24 volt supply.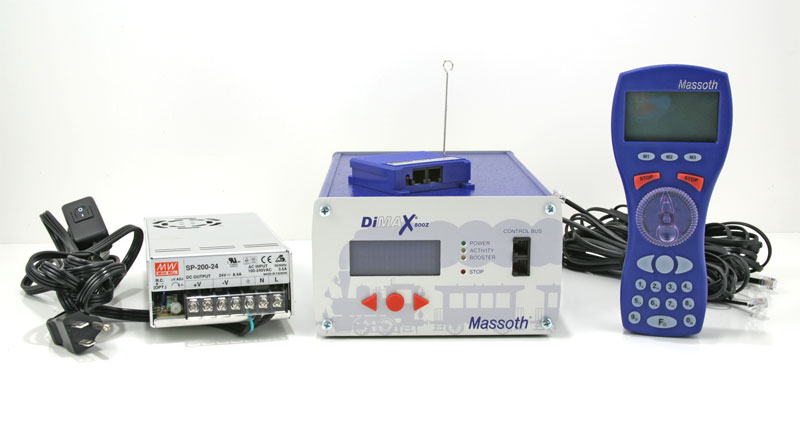 The set includes all items show above, including:
DiMAX 800Z 8 amp MTS/DCC central station
DiMAX Navigator Wireless Bidirectional Throttle & 20' control cord (phone type)
DiMAX RC Receiver, aerial & 20' control cord (phone type)
SL-PS300-27F - Pure DC 15.5 amp 19.4 to 27.4 Volt Power Supply with auto speed ultra low noise fan
SL-AC-10SW - 10' power cord with switch and grounded plug
For detailed information on each item above, click on each item.

SL Discount Price: Contact us for current pricing

The kit is easy to setup and use in minutes. It provides everything but track, track wiring and train.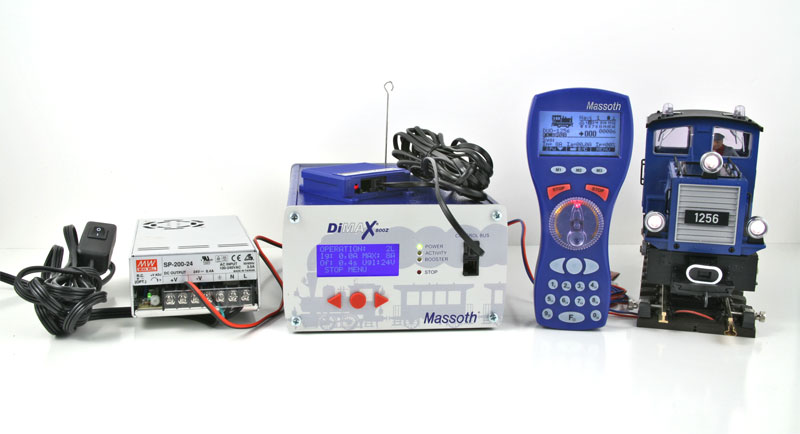 For fastest delivery all the Massoth items shown below ship directly from Massoth USA - factory sealed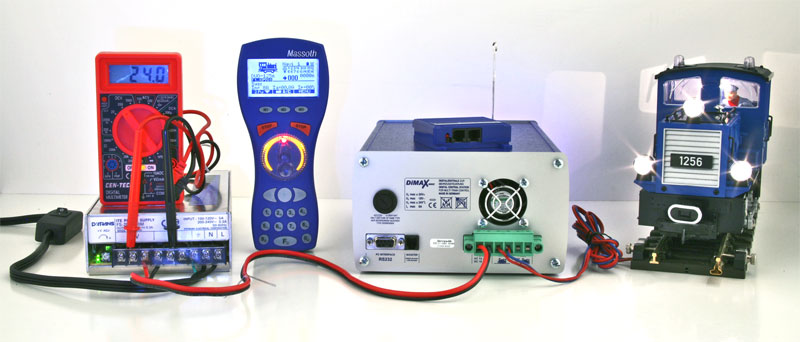 Massoth' DiMAX 800Z 8, Navigator, RC Receiver - powered by the SL-PS300-27F - Pure DC 12.5 amp 19.4 to 27.4 Volt Power Supply and connected to the AC via the supplied SL-AC-10SW - 10' power cord with switch and grounded plug. The photo shows how easy it is to hook up the your track and run your trains from over 300 foot distance from the RC receiver (shown on top of the central station). (Meter, track and train not included)
---

Massoth items in the kit:
Massoth' DiMAX 800Z 8 (click here for details)

The DiMAX 800Z Digital Central Station is a favorable alternative since it is built on the same technical properties as the DiMAX 1200Z. Up to 8 Amps driving current without an integrated transformer allows using the 800Z for all scales from Z to G. Operating Voltage: 16 to 24 Volts DC or 12 to 18 Volts AC. The current output can be adjusted to 2, 4, or 8 Amps. This option is desirable for smaller scales.


Properties of the 800Z:

Up to 8 Amps track current
Adjustable max track current: 2 Amps, 4 Amps, or 8 Amps ;according to the needs of the layout
External power supply with max. 18 Volts AC, or max. 24 Volts DC
(Gauge N to G)
Output current at 22-24 V : max. 8 Amps (only for G-Scale recommended)
Easy to read display with blue background lighting
Selectable parallel or serial data processing (may be defined individually for each locomotive)
Thermal overload control / automatic overheat protection
Temperature controlled fan
Automatic short circuit protection (cut off time adjustable)
Additional program track outlet ( 2 Amps max.)
Operation control light
Activity control light
Booster control light
STOP control light (supports MTS blinking emergency stop light)
Push button with STOP function
Easy to use menu control by 3 push buttons
2 connectors for peripheral units
1 booster connector for DiMAX and LGB boosters
1 booster connector for NMRA DCC
2 Amp control bus for 8 input devices and 30 control units
Selectable control bus protocol: DiMAX Massoth or LGB MTS II
Operational control by DiMAX Navigator or LGB MTS components ( Loco Remote, Universal Remote, etc..)
PC Interface (RS 232) for firmware updates of all DiMAX bus components (central station, Navigator, etc.)
Free firmware update downloads
Massoth bus protocol 100% compatible to NMRA DCC Standard
Top quality aluminum housing
Explicit operation manual, available as PDF download too
CE certified

The DiMAX 800 Z Central Station includes:

Central Station
20' bus cord for connecting to throttles, accessories and/or receivers
Removeable power plug for easy station set up
Instructions
Factory Foam insert and box to hold all items

Above, you can see the removable terminal block on the DiMAX 800Z central station that allows easy removal of the central station without removing the power, track and programming cables from the plug.
DiMAX Navigator (click here for details)
The wireless Navigator Throttle, shown here, provides bidirectional communication with the central station. You may have lots of throttles connected to the central station allowing multiple operators.
The Navigator wireless throttle has bidirectional communication. The display shows the actual amperage your train is using while you walk around your track. This is great for trouble shooting problems with track power or feeder lines to the track as you can actually see the voltage drop remotely on your wireless throttle as your train goes over a bad section of track.
The wireless Navigator Throttle has a range of over 300 feet.

I have successfully run trains with it at over 1000 feet from the receiver where the receiver, central station, power supply, cordless phone, and a PC with wireless connection all stacked on top of each other. If you have used a wireless throttle in the past you will be amazed at the range of this system.

The Throttle also has a back lighted graphics display that shows what type of engine you are running, along with your choice of engine name. The main speed control is also back lighted so it is easy to run in the dark and the stop buttons cut power to the track instantly and also restore the power.

The Navigator Throttle includes:

US frequency Transmitter Throttle with full control lighting
20' bus cord for connecting to central station
Instructions
Factory box to hold all items

DiMAX RC Receiver (click here for details)
The DiMAX Receiver enables you to operate the DiMAX Navigator with a DiMAX central station or a LGB MTS III central station.

The DiMAX Multi Receiver facilitates the operation of a maximum of 8 Navigators at the same time. The receiver is connected to the XpressNet and the LocoNet via 2 plugs.

The additional Massoth plug may be used for cable operation or for charging the batteries of the Navigator.

The Receiver includes:

US frequency Receiver with Status light
20' bus cord for connecting to central station
Antenna for US frequency standard
Instructions
Factory box to hold all items

---

Shourt Line items in the kit:
SL-PS300-27F (click here for details)

24 Volt DC, 12.5 Amp, 300 Watt DC Regulated Switching Power Supply for Any Scale Trains

The SL-PS300-1-27F regulated switching power supply with auto speed low noise fan - outputs 24 volts at 12.5 amps. This supply allows extras reserve power for the Massoth 800Z 8 amp booster/central station and operates on any voltage or frequency. The built in fan has auto speed regulation and features ultra quite operation..

Features:

Universal AC input / full range
Enclosed regulated switching supply.
Built-in cooling fan auto speed control
Over Voltage protected
Built-in active PFC function, PF>0.95
LED output indicator
Terminal strip In/Out
PFC - Energy Efficient Switching Supply
Constant current limiting, recovers automatically after fault condition is removed

Protections: Short circuit/Over load/Over voltage/Over temperature


Safety approvals: ULusa/canada/CE listed.

MTBF (mean time before failure): 183.8K hrs min. MIL-HDBK-217F (25 )

SL-AC-10SW
SL-AC-10SW A10' AC Cord & Switch:

UL listed
3 wire cable
Molded three prong AC plug
Rated 300 Volts,
105 deg. C,
18 AWG with a center green ground wire.

---

Set up is super easy
Just plug in the power supply; connect the supplied 20' cable between the DiMAX and the receiver, hook up your track, put 3 AA batteries (you can recharge them in the throttle) and you are running. Our power supply is adjustable so your won't melt your 18 volt smoke stacks or coach lamps, you don't need as meter as the DiMAX shows your the voltage of the power supply as well as the amperage going to the track. The DiMAX remembers all your loco pictures, names, addressed, that throttle is assigned to what loco and all the switch track routes on your railroad. NO PROGRAMMING is required to run your trains!
Expand your system
You can easily expand your system with the Massoth DiMAX 1203B 12 amp booster using our SL-PS300-1-27F 24V 12.5A 300 watt power Supply.
Notice the blue Massoth boxes in the picture above. Massoth has always been the blue box inside all your LGB red boxes as they are the manufacturer of all the LGB electronics. The set comes with factory sealed boxes for all the Massoth and Shourt Line products. (Meter, track and locomotive not included with the set)
Test drive one today!
Click on this link to visit Massoth's Web site for more details on all the Massoth products