SL-LM-17010 Loco magnets (2) and 3M adhesive pads (2)
Neodymium Rare Earth Magnets - Water Proof - Low Profile
Compatible to the LGB 17010 magnet
Small size and superior strength fits on locos where the LGB 17010 and Massoth 8420102 magnets do not.
Compatible with our SL-TC-1705 track contacts as well as LGB's 1700 & 17100 track contacts .
Price: $9.16 (two loco magnets and 3M pads) New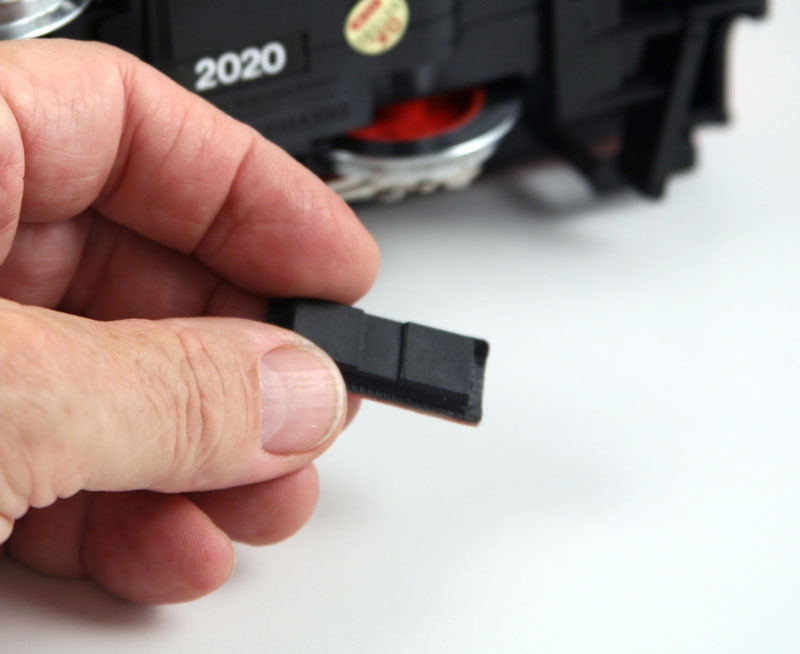 These powerful rarer earth magnets will trigger track contacts up to 1 inch from their surface. Like the original LGB magnets, they are polarized so that one of the sides is North while the other is South. This is the reason that other magnets do not work with track contacts.
Each magnet contains a north and south rare earth magnet (under the raised areas at each end) with a metal back plate to increase the field strength and the whole assembly is sealed in plastic making it water proof.
Each magnet has a 3M outdoor adhesive pad on its back for easy attachment to any desired surface.
No tools are required to install.
Features:
Rare Earth Neodymium Magnets for superior performance
Dimensions: 35.7L x 14.4W x 4.6 H mm (1.4"x.57"x.18") Height with 3M pad is 5.8 mm (.22")
Works with LGB, Aristo Craft, Bachman, USA and other manufacturer's locomotives
2 each Loco magnets
2 each 3M adhesive strips for attaching magnets to locos
Easy to install: takes less than 3 minutes
Each SL-TC-AF1 comes with 1 SL-LM-17010 Loco Magnet. This will fit on the bottom of any G scale Loco or car.



On the flat side of the SL-LM-17010 Loco Magnet there is an adhesive pad with red protective cover.



Peel the red backing off the adhesive pad as shown.



Press the SL-TM-1705 magnet to the desired track tie. Reposition easily if you change your mind by lifting the magnet off the tie and relocate. If you want this loco magnet to work with standard track contacts place on the center line of the loco otherwise place off center and do the same with the track contact by placing under the track in the same off center position. The length of the magnet must be parallel to placement of the track contact.

Note that this loco magnet fits in locations and on locos where the LGB and Massoth magnets do not fit as shown above. The magnet is stronger so that its placement can be located a greater distance from your track contacts which allows flexible placement.


Run your trains! Use the loco magnet to automate your railroad by activating switches, signals, sound effects or signaling a central station or PC to perform other actions. (Train and track not included with magnets).

Automate lighting and sound effects using our SL-TC-1705 Track Contracts to trigger special effects as shown below. (Animated Santa available as a separate item from the Shourt Line)
Made in the USA - 100% satisfaction guaranteed.
Questions? eMail info@ShourtLine.com by clicking here
Thanks for looking - Shourt Line by Soft Works Ltd
copyright 2009 Shourt Line - Soft Works Ltd. all rights reserved