SL-CRCS-3R-Tent
New LGB Wilson Brothers Circus Scale
3 Ring Circus Tent - 20 X 40 X 18 inches
Fits completely on an LGB Wilson Brothers Circus Flat Car or inside a Wilson Brother Circus Tent Car
For indoor or outdoor use - manufactured in the USA from aluminum, stainless steel, brass and outdoor UV resistance flag fabric
Includes two hex drivers for assembly and disassembly so your tent can travel from town to town with your circus train.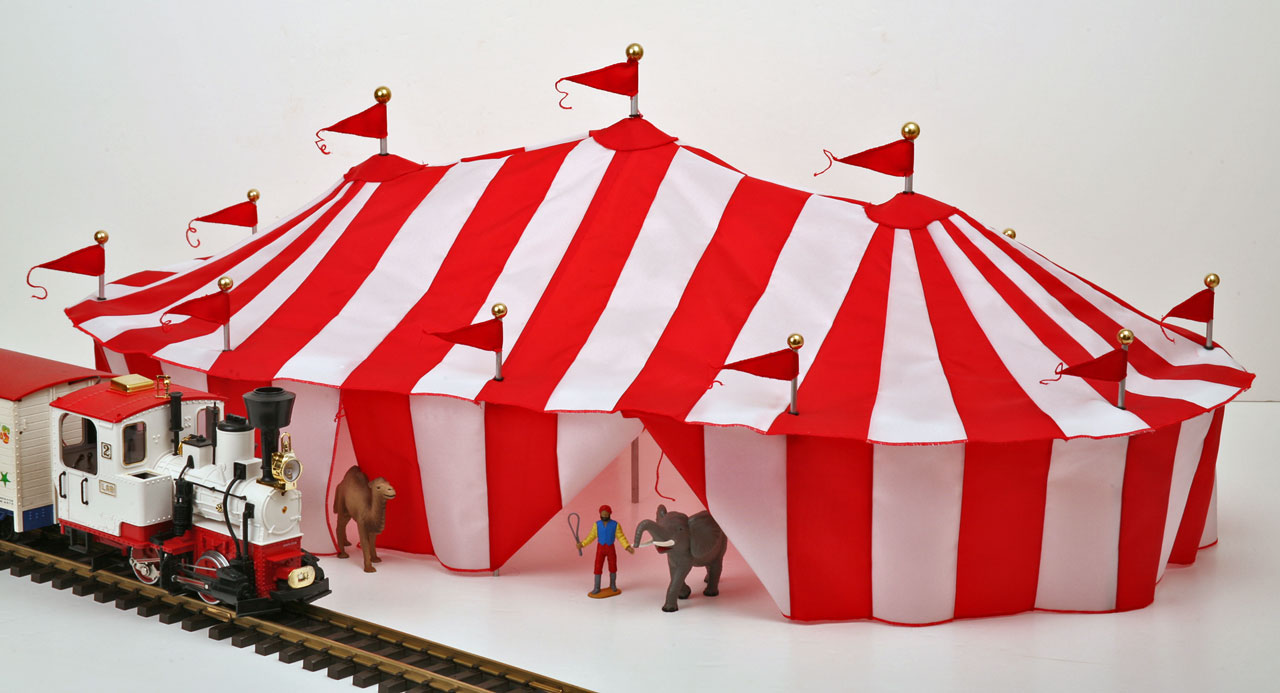 (track not included but is available at our store)
SL Direct Discount Price: $4395.99 NEW List Price: $6395.99
Features:
This original haute couture design is based on actual circus tents and includes a Pat. Pend. geo-frame to provide a secure frame for the tent. Over 2 years in design, fabrication and testing, this handmade model tent is perfect for any large scale circus garden railway, indoor layout or diorama.

The Model:

Handmade in the USA
Aluminum Rod poles and top rails
Fiberglass rod for curved top rails
Aluminum machined blocks for connecting rods
Stainless steel set screws for holding rods firmly in connector blocks
Nylon roof supports with set screws for holding and adjusting tent height
Weather-proof, UV resistant outdoor tent fabric
All seams are double overlock stitched for durability and weather proofing
Solid Brass balls on pole tops provide elegence and safety
Rubber O rings provide water resistant seals between poles and fabric
Free standing, no ropes or wires required for stability
Tent fabric is translucent to enhance interior lighting and provide dramatic outside views of lighting inside the tent
Optional miniature lighting systems are available from the Shourt Line and Scale Lights
Tent includes a detailed manual with easy to follow pictorial assembly instructions
Specifications:
Mfg: made in the USA by the Shourt Line
Photos: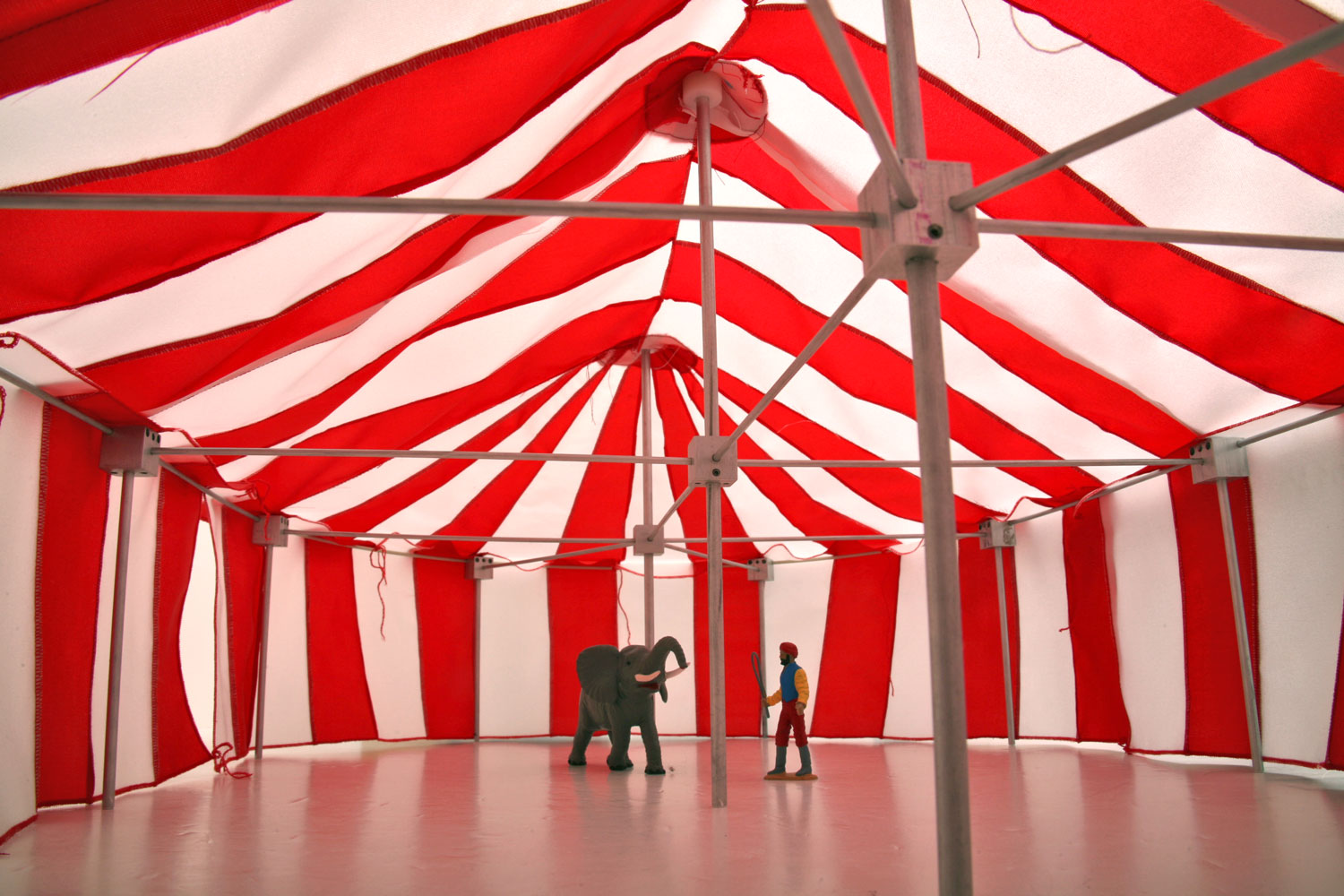 Translucent tent fabric: Provides interior and dramatic exterior lighting effects when lights are placed inside the tent. Optional moving miniature lights are available as well as digital circus sounds.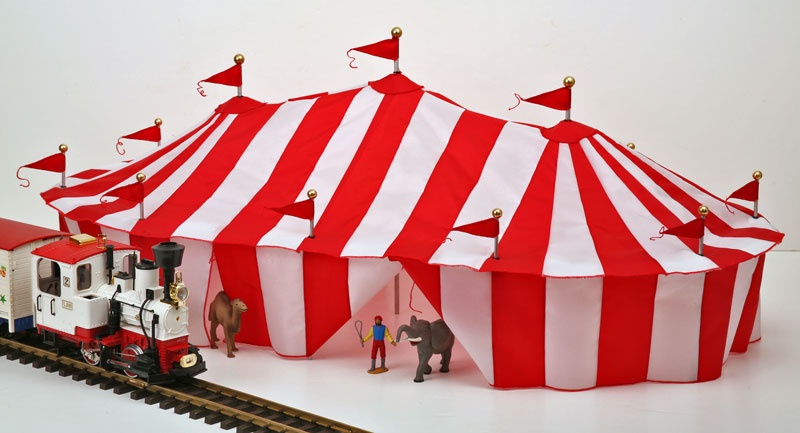 Designed for LGB's Wilson Brothers Circus: A must for any circus on your garden railway or indoor layout.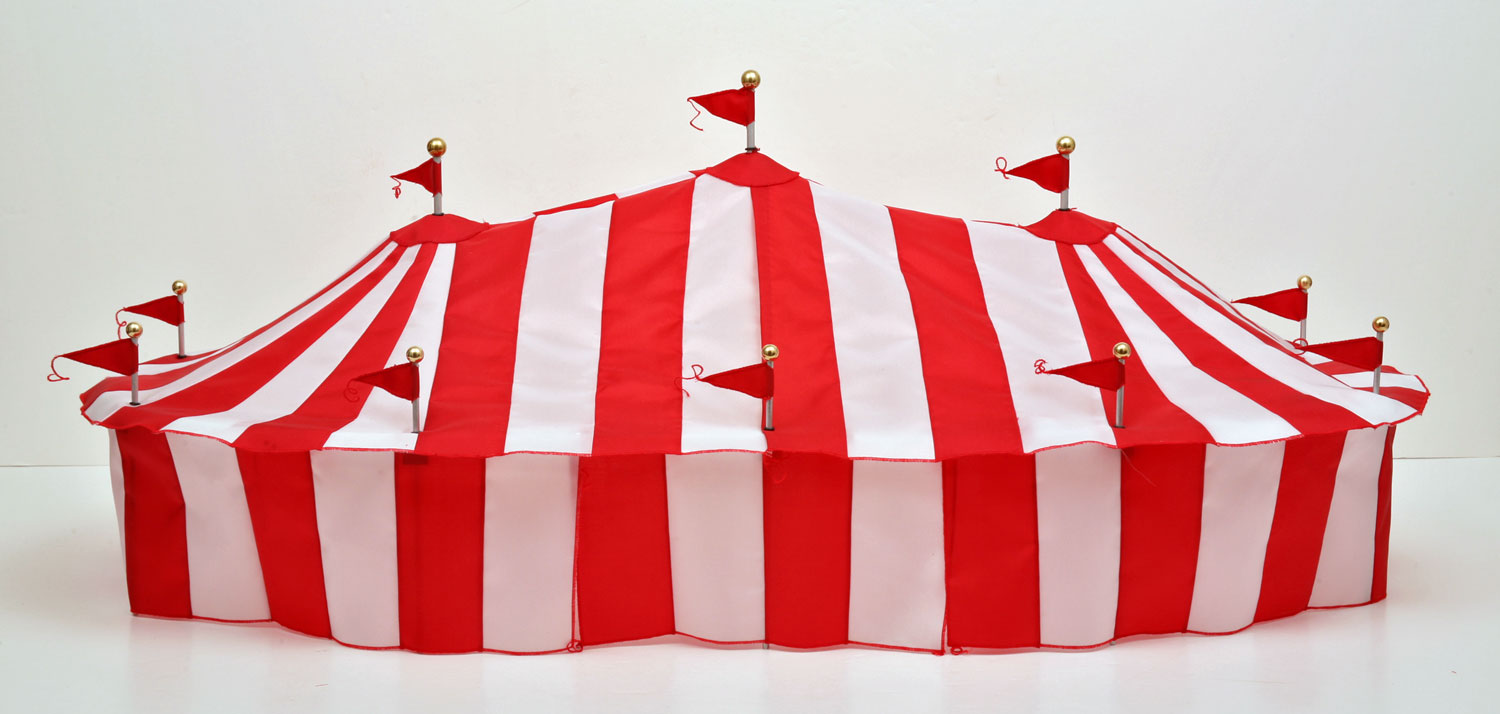 G Scale Train size: Perfect for any large scale from 1:16 to 1:32.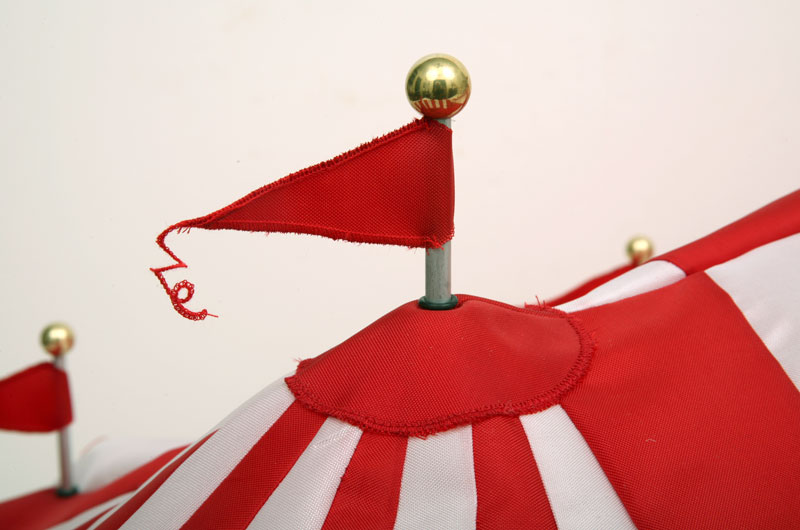 Weatherproof: The fabric is weaterproof UV fade registrant for outdoor use and can be left outside all year. Rubber O rings are provided for all poles to keep water out of your tent so the show can go on regardless of the weather. Brass balls are threaded to posts for easy assembly and safety.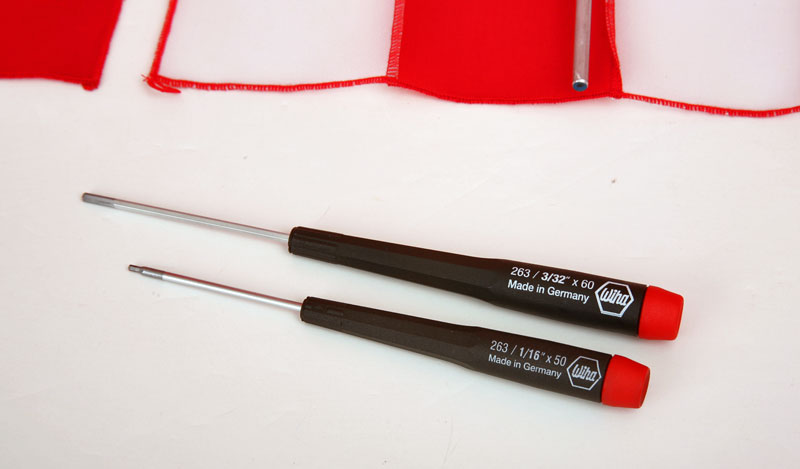 Two precision drivers included: The set includes German made hex head drivers for quick assembly using the supplied pictorial instructions.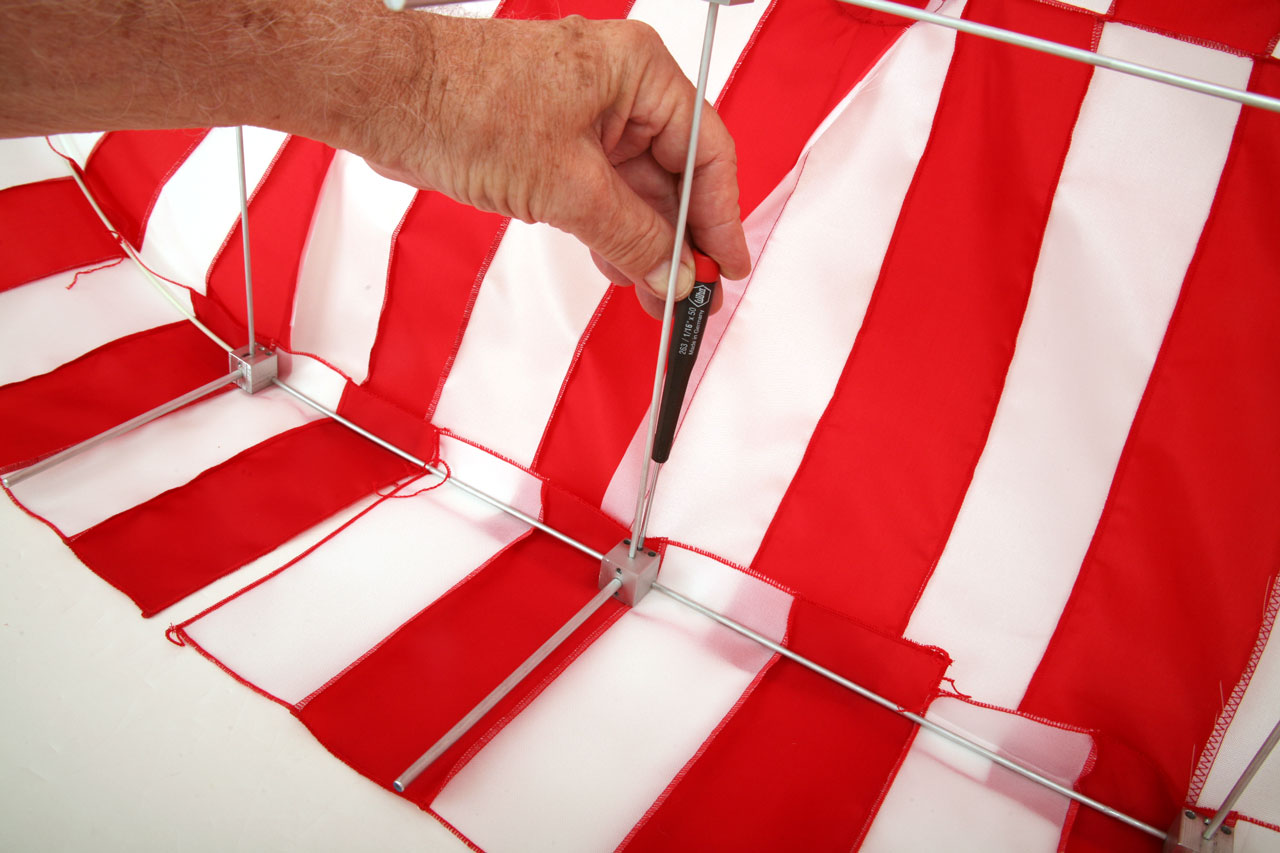 Easy Assembly and Disassembly: Set up and take down is easy and fun when it is time to move the circus from town to town or down to Florida for the winter. All tent parts including fabric and tools fit on any large scale flat or box car.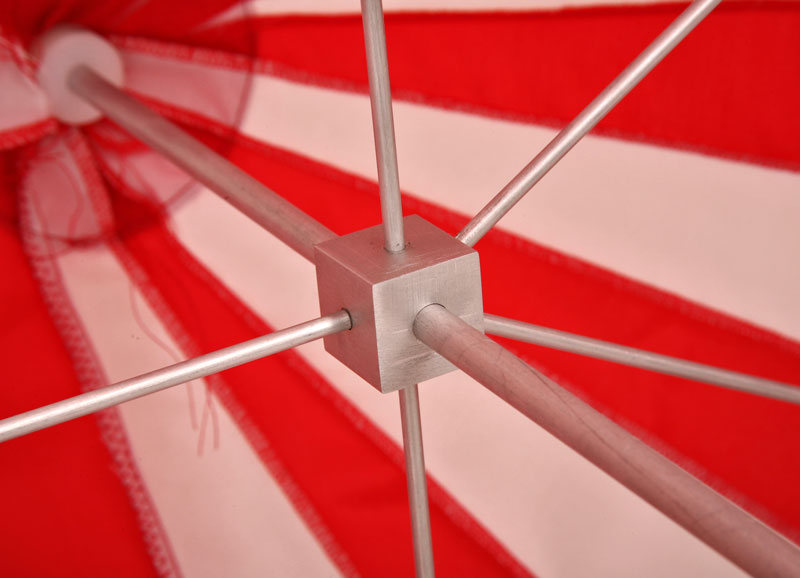 Aluminum Connector blocks: Hand machined aluminum connector blocks allow the structure to be self supporting using the supplied aluminum poles and rods. Fiberglass rods are used for the curved end sections of the tent and are also weather poof. Nylon spacers with set screws support the top of the roof as shown in the photo above taken from the floor of the tent looking up at the roof.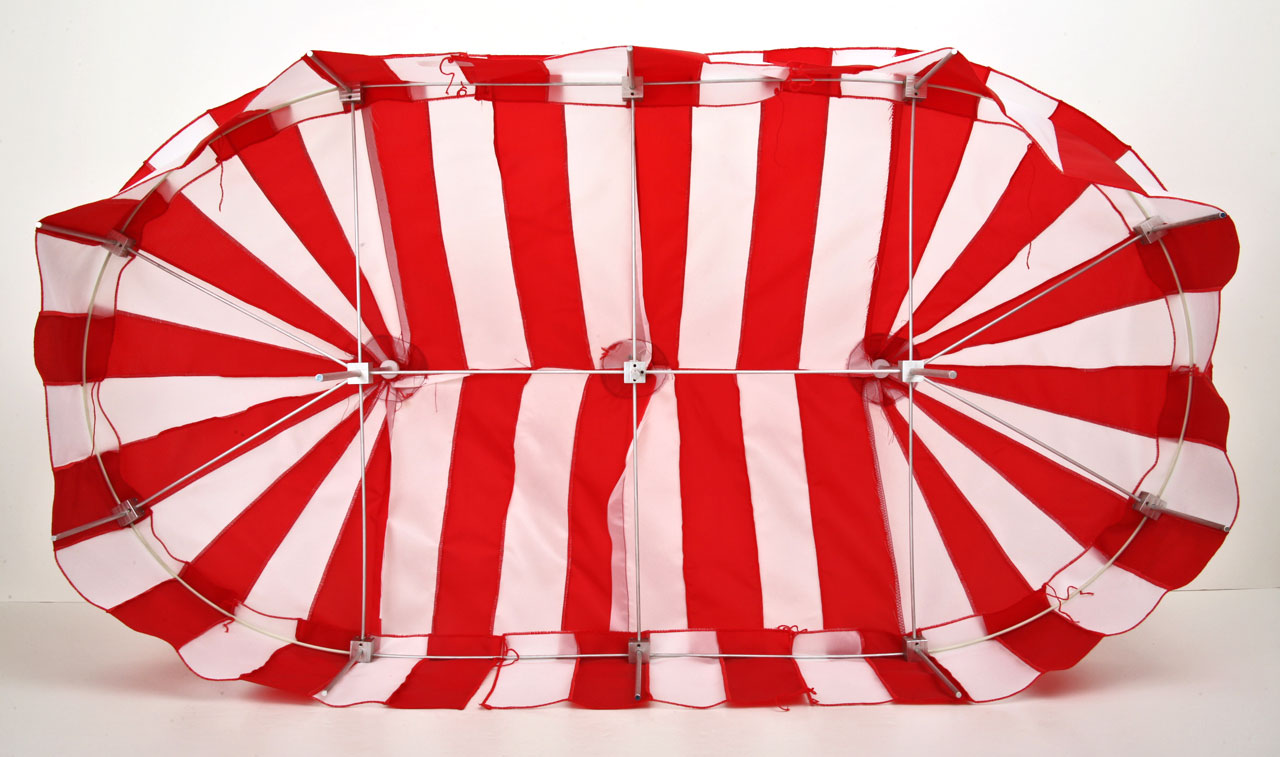 Self Supporting Frame: The frame even support the tent when on its side as shown in this photo. The tent can be easily lifted by pulling up on the center pole.

Don't miss this limited edition Circus tent for your large scale Wilson Brothers Circus Train.

For indoor or outdoor use - Pat. Pend. all rights reserved
Questions? Email info@ShourtLine.com by clicking here
Thanks for looking - Shourt Line by Soft Works Ltd.
copyright 2016 ShourtLine.com - Soft Works Ltd. all rights reserved