SL-APB-3300 3,300uF Automatic Power Buffer
Does you loco stall on switches? the Automatic Power Buffer provides UPS Power for your locos decoder for motor, sound, lights, smoke and all other functions when track power is lost.
Direct From Manufacturer - MADE IN THE USA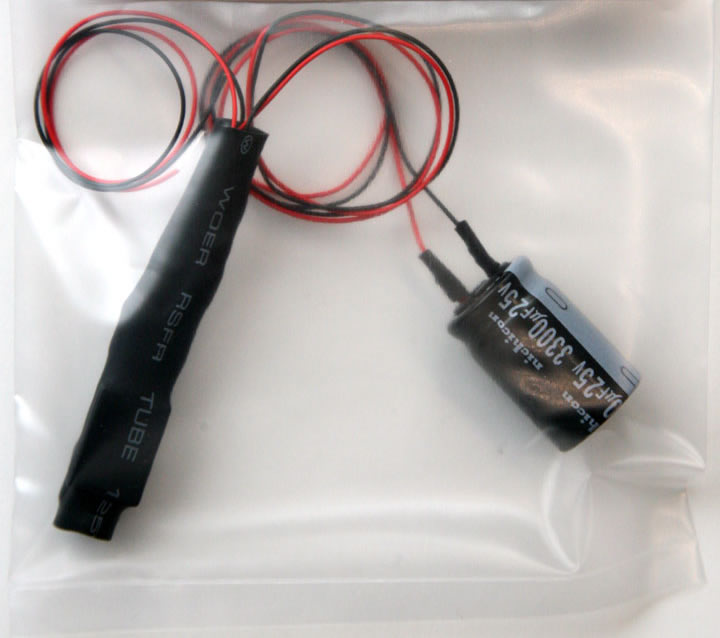 The 3,300uF capacitor is very small with a .64" diameter and 1.1" length.
Shourt Line Discount Direct Price: $32.95 NEW
For questions on this item or details on our professional repair, restoration and digital sound decoder installation services Call 310-622-4431 or email us at info@ShourtLine.com
Features:
Easy two wire installation - no switch required. Works with any decoder including all Massoth decoders with or without sound.

No switch or 3rd wire required for programming your decoder in your loco.
Automatic Operation with motor, sound or motor/sound decoders
Easy install to any decoder that has + and - voltage terminals or solder pads
Works with or without a decoders buffers control outputs
Small size allows flexible placement in most locomotive
Installs in minutes

Without the a SL Power Buffer, your loco can stall or jerk and lights flicker or go out on switch frogs, dirty track or dead sections of track. The SL Automatic Gold Cap Buffer eliminates these power interruptions in the same way a UPS (Uninterruptible Power Source) can keep you computer operating when power fails. When your loco passes over the bad track, the buffer continues to supply power to the motor, lights, sound and all other loco features, your loco continues to operate even without track power!
What is an automatic Power Buffer?
A power buffer stores energy to run your train should power be interrupted. Power interruptions often occur when a loco passes through a switch or over a bad or dirty section of track. The a SL Power Buffer is unique in that it automatically disconnects the power buffer when you perform programming operations. Other power buffers require you to install a switch and turn it off prior to programming you loco. In addition the Shourt Line Automatic power buffer limits the charging current to avoid damaging your decoder.

The Shourt Line Power Buffer is also unique in that it has only two wires to connect, has automatic operation and is very small in size to allow placement where other buffers do not fit.
How does the Shout Line automatic Power Buffer Work?
The Shourt Line Automatic Power Buffer is not a diode and capacitor like other buffers. This type of buffer interferes with and makes programming operations fail.

The Shourt Line Automatic Power Buffer has a circuit that detects programming and switches OFF the buffer so programming works with any decoder, every time, without fail. Other buffers require the installation of a switch or require the loco to be opened and the buffer disconnected prior to programming.
What size Automatic Power Buffer do I need?
The size of Automatic Power Buffer required depends on current draw of the motor block(s), smoke, lights and sound system, number of power pickup points and condition of your track determine the size of buffer required. Dirty or un level track, and non-conductive points all reduce a locos ability to draw power from the track.


Generally the larger the capacity of the power buffer the greater distance the loco can travel without power. Because of this the larger the capacitance the better and the range of buffers range from 3,300 uF to 66,000 uF for standard capacitors for run times of 1/10 to 2 seconds of loco travel or 1/8 to 2 revolutions of wheel movement without power. The space available inside the loco is also a consideration in choosing a size of power buffer. Please contact us for recommendations on specific loco models/

The Shourt Line offers Gold Cap Power Buffers for special conditions where 30 to 120 seconds of run time is desired as these offer 1 to 10 Farad of storage. The disadvantage of this amount of run time is that the loco can not be stopped until power is restored.
Specifications:
Manufactured in the USA
Works with any decoder or sound board with DC + and - voltage terminals
For MTS, DCC or DC powered decoders or sound boards
No switch required for programming
Automatically detects programming and switches off to allow programming (Pat. Pend)
Available in single board and three piece versions for small locos.
Stores up to 24Votls at 3,300 uF for single motor locos and sound boards for operation when power briefly fails
Maximum charge current is 200 ma (.2 amps)
Maximum operating voltage 25 Volts DC (from decoder or sound board)
Maximum track voltage 26 Volts AC or DC
Operates with DC (analog) or AC, DCC or MTS track power
Size - controller .5"WX.375"HX2.2"L Capacitor .64" diameter X 1.1"H
Made in the USA by the Shourt Line
Easy Hook-up: Just connect red wire to + and black wire to the plus (+) & minus (-) outputs on your decoder.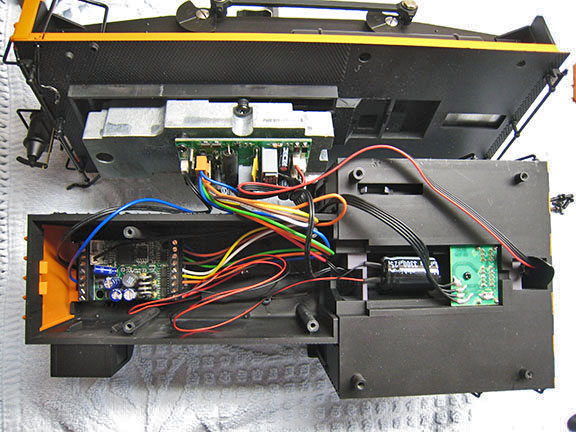 Easy Placement: The control circuit and capacitor are separated to allow flexible placement where other power buffers just don't fit. This photo shows a typical loco with no room to fit an LGB power buffer but the Shourt Line SL-APB-3300 fits easily. Notice the control circuit is in the center of the photo to the right of the Massoth XLS sound decoder and the power buffers capacitor fits nicely in the area to the right.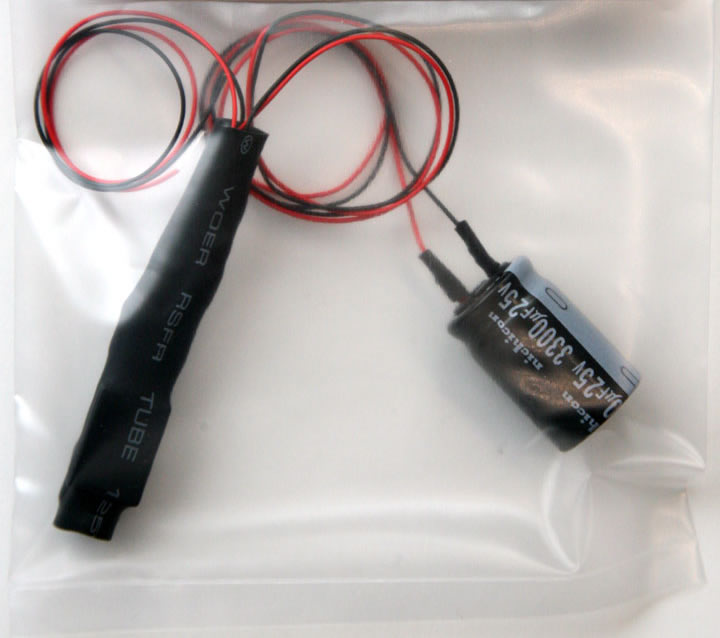 Automatic controller circuit show above to the left is only .5" wide and .375" high and 2.2" long that fits nicely along side your decoder board or as desired.
Avoid stalled locos: Provides power to travel over dead switch frogs or dirty sections of track while sound, lights, motor, smoke and other accessories continue to operate.

For indoor or outdoor use - Pat. Pend. all rights reserved
Questions? Email info@ShourtLine.com by clicking here
Thanks for looking - Shourt Line by Soft Works Ltd.
copyright 2010 ShourtLine.com - Soft Works Ltd. all rights reserved