G Scale SL 6011602 Power Pickup Set for PIKO Metal Wheels on LGB 1 axle trucks
Shourt Line Part Number: SL 6011602
Power your train lighting and/or sound systems with the Shourt Line ultra low friction power pickup kit.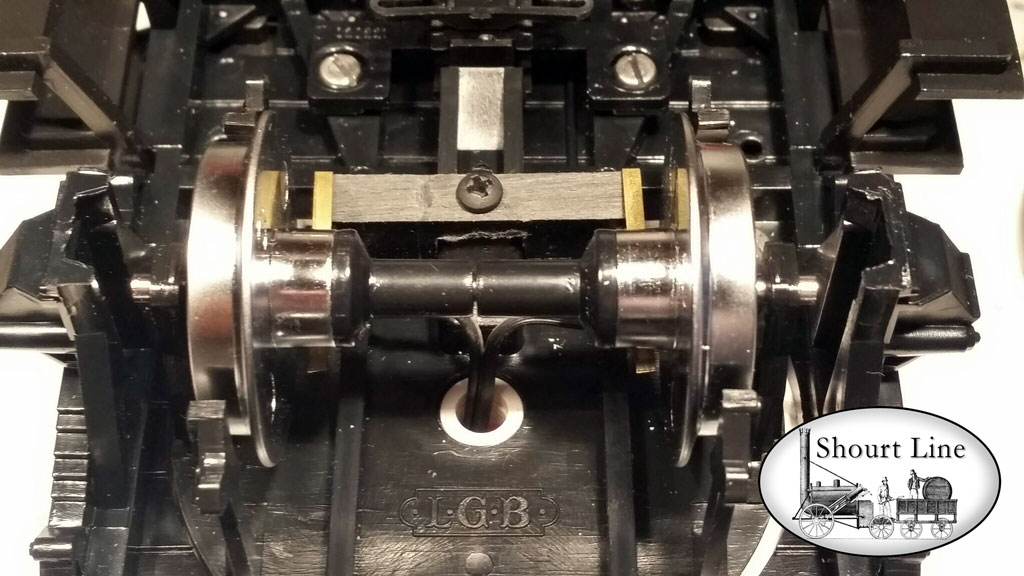 LGB short car 1 axle truck shown with Shourt LIne SL 6011604 Power Pickup Set and PIKO Metal Wheels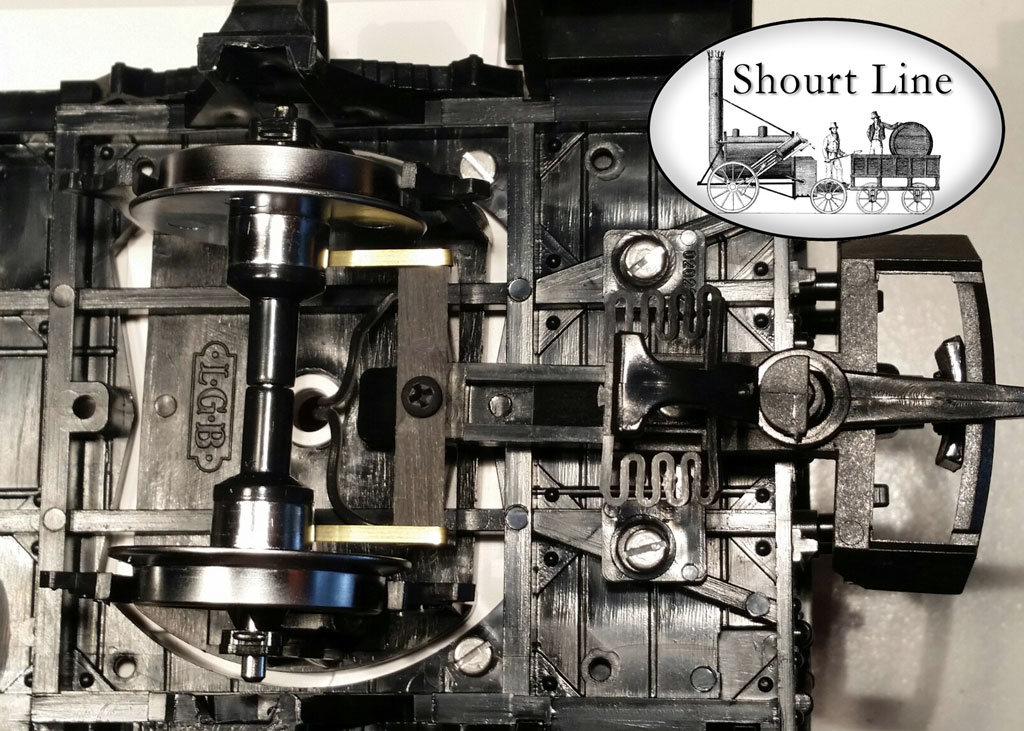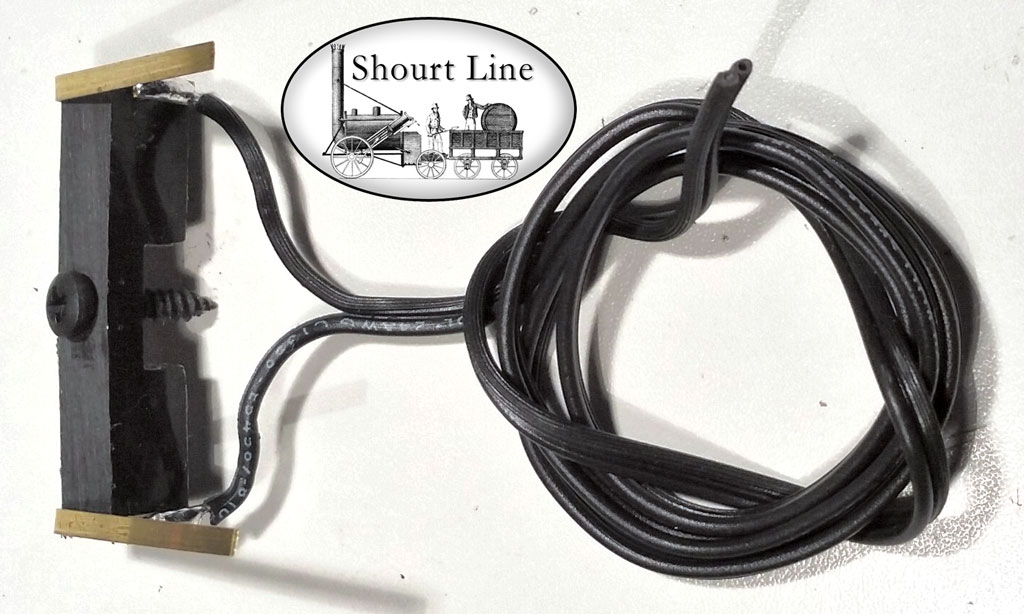 Perfect G scale power pickup for LGB 2 axle cars with PIKO Metal Wheels - different kits available for all other LGB, PIKO and other passenger cars.
Shourt Line Direct Price: $15.95
Set Features:
Kit Includes:

Pre-assembled set of power pickups -ready to connect to lighting system of your choice (see recommendations below)
18 inch black 2 wire micro power cable ready for wiring to a lighting and/or a sound system
1 screw for easy 1 minute install
Instructions - on-line for assembly (shown below) for use PIKO G Scale metal wheels. Metal wheel sets Not included but available at our store

This power pickup set is designed specifically for LGB 1 axle trucks found on LGB short 4 wheel passenger, freight and other type cars. Perfect for powering LGB sound cars from track power when used with PIKO Metal Wheels.

For analog, DCC or AC track power

Rated: 1 Amp, 30 volts, 150 LEDs maximum (can power up to 200 LEDs with one power pickup set when used with the Shourt Line LED controller)
Low friction power pickup

1/4 the friction of LGB carbon brushes

Easy Install

Easy to mount in minutes
Only a screw driver required

Requires PIKO metal wheels

Use PIKO P36164 Metal Wheel set, 30mm, Plated wheels for ultra low rolling friction
Can be use with PIKO P36161 Metal Wheel set when contact area is sanded to expose metal (This product discontinued by PIKO but still in stock and ready to ship. Hint Use the PIKO P 36161 for car wheels that are not used for track power pickup.
Optional items:
Optional Shourt Line LED drop ceiling (recommended)

Use the Shourt Line 4, 8 or 11 LED drop ceiling lighting fixtures for LGB 2 axle cars - works with DC&DCC requires SL 8453003 LED controller

Optional Shourt Line LED Controller (recommended)

SL 8453003 Precision Train Throttle & LED controller AC,DC or DCC with solder connections- up to 92% efficient and able to power up to 200 LEDs directly from the controller by wiring LEDs in parallel.

Optional Shourt Line anti-flicker buffer (recommended)

Use SL 6111100 10,000uF Anti-flicker Buffer 2 wire to prevent flicker when bad sections of track cause power loss and to power additional cars without flicker
How to install:
Step 1 Remove wheel from truck

Step 2 Check if the hole in the center of the truck is clear to the inside of the car, if not drill hole through to inside of car

Step 3 Place power cable through the hole in the center of the LGB truck into the inside of the car as shown below

Step 4 Insert your PIKO metal wheel and note that both metal wipers contact the polished 1/2 inch diameter area of each side of the axle.

Step 5 Carefully seat power block into into position with metal wipers touching the polished metal areas of the axle, if wipers do not touch on both sides, remove and bend metal wipers slightly in the direction of the center of the axle and retry.

Step 6 Secure power block with screw provide and retest that metal wipers touch each polished area of axle when the wheel is moved side to side if not repeat step 5 above.

Step 7 Connect the power pickup cable to the AC input of a Shourt Line SL-8453003 LED controller, follow the directions below to set the proper voltage for your lighting board (3.1 volts for SL warm white fixtures or SL oil lamp flicker lamps).

Step 8 After setting proper voltage on LED controller, connect to your choice of Shourt Line LED drop ceiling fixtures or SL warm white LEDs using schematic below and instructions that came with the SL LED fixtures

Note that the SL-8453003 come with a 2 amp Bridge Rectifier for connecting directly to track power, DC, DCC, AC volts)

Step 10 Mount the optional SL 6111100 10,000uF Anti-flicker Buffer where desired and wire to DC input of the SL 8453003 Precision Train Throttle & LED controller to eliminate any flicker due to dirty track sections.
Photos: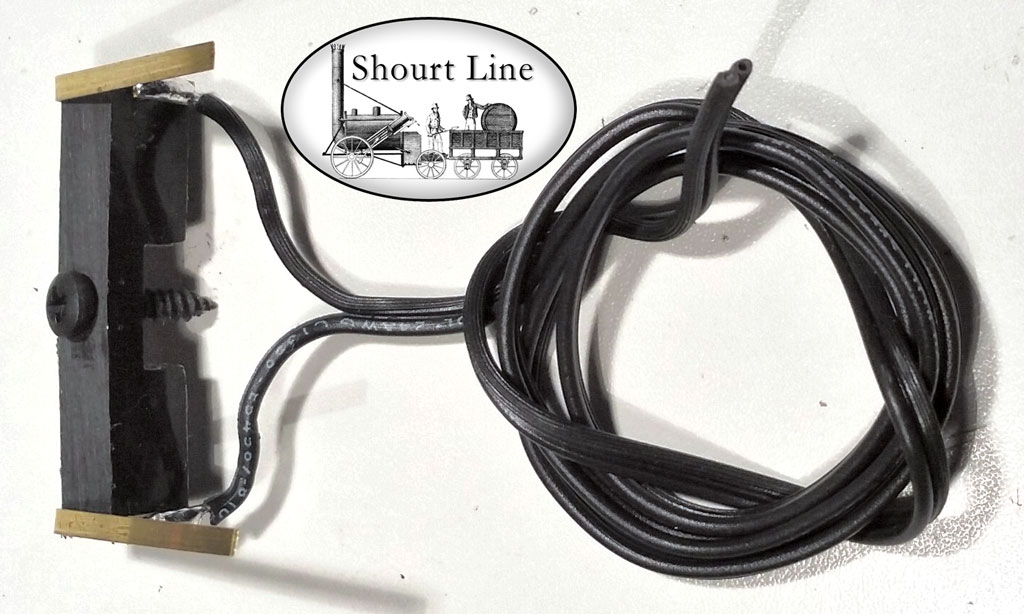 Other power pickup models area available for LGB and PIKO cars with LGB solid and spoke metal wheels - contract the Shourt Line for details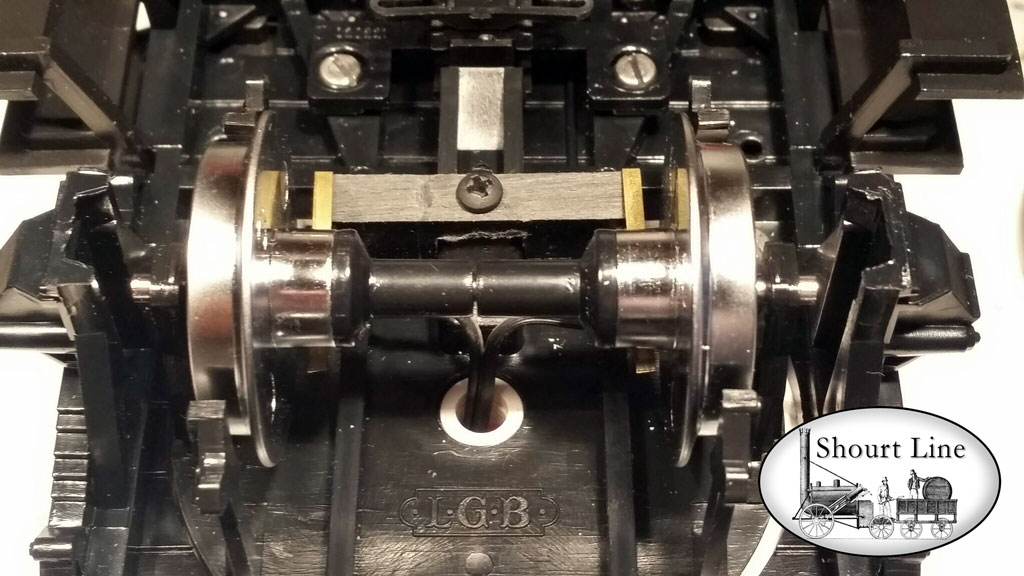 Questions? Call 310-622-4431 on this or any of the over 6000 G Scale Items stocked at the Shourt LIne
Click here for more product details, easy install directions and larger photos
Thanks for looking - Shourt Line by Soft Works Ltd.
copyright 2015 Shourt Line - Soft Works Ltd. all rights reserved