New 24 Volt Pure DC, 25 Amp
600 Watt Train Power Supply
SL-600-24-1-25 DC Regulated Switching Power Supply for Any Scale Trains - Analog DC or MTS DCC use.
Part No.: 5112425
Fully REGULATED, PROTECTED, PARALLEL Train Power supply
5 to 24 Volts of PURE DC power at 25 Amps - Works anywhere in the world 110 to 240VAC 50 or 60Hz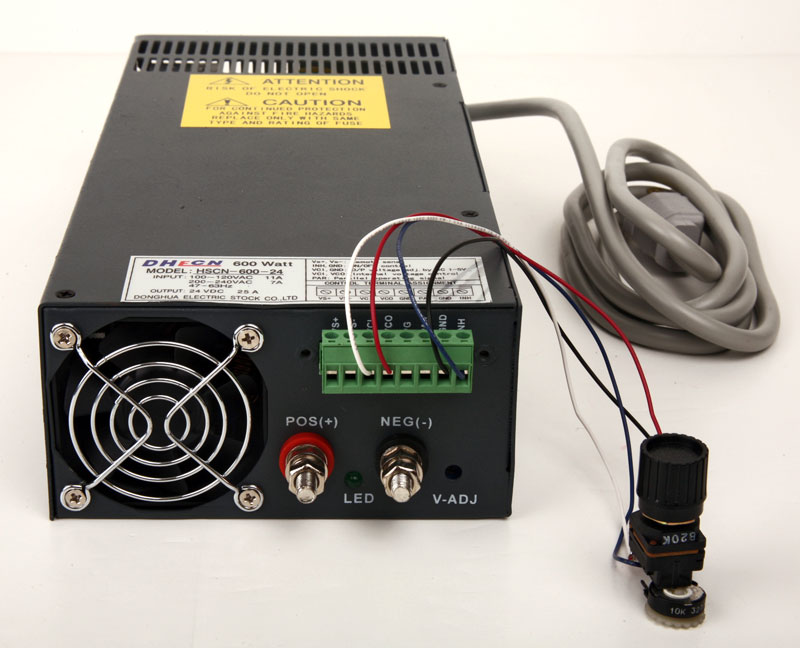 Easy to hook up and safe for your analog or DCC equipment (AC power cable and external 5 to 24 volt adjustment cables shown above not included )
Shourt Line Direct Discount Price: $239.95 - New - Satisfaction Guaranteed (temporarily out of stock)
Click here to view a detailed product data sheet
Features:
High reliability
High efficiency - save $$$ on your power bill
Low ripple
Universal AC input
Full range Protections:

Short circuit
Over load
Over voltage
Over temperature

Built-in ON-OFF control
Remote sense function
Parallel function (add 2, 3 or 4 supplies in parallel for 50, 75 or 100 Amp output)
Adjust from 20%~100% output voltage by external control 1-5V
Optional external voltage adjustment cable (shown in photos)
Forced air cooling by built-in DC fan
Dimensions: 291*132*68mm (L*W*H)
Specifications:
Input Voltage Range: 90~130VAC / 180~260 VAC 47~63 Hz
Output Voltage Range: 5 to 24 with optional external voltage adjustment cable by ShourtLine.com
Output Front Panel Voltage Range: 18.3 to 27 Volts DC
Output Current Range: 0 to 25 amps (0 to 100 amps by adding additional supplies in parallel)
Efficiency > 85%
Weight: 2.3Kg
Dimensions: 291*132*68mm (L*W*H)
Photos: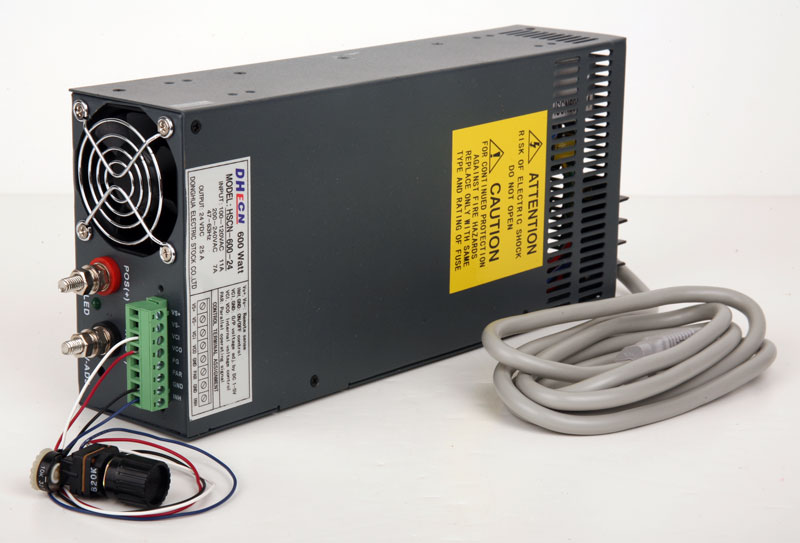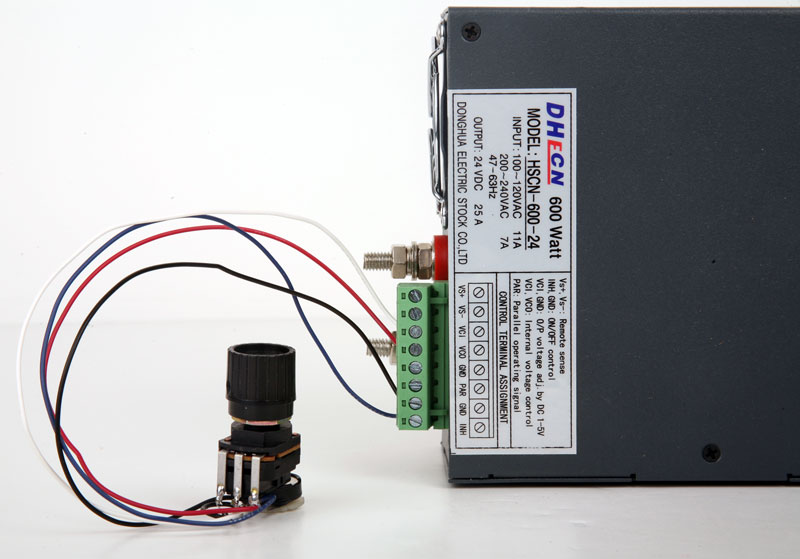 .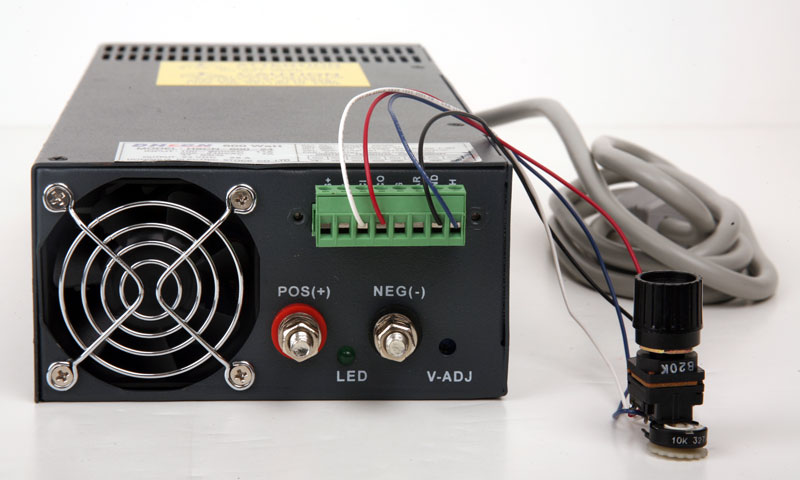 Optional items not included with the power supply:

Optional power 6 foot AC power cord - $2.95


Optional SL-Adj-Cbl Voltage Adjustment Cable for easily setting the output from 5 to 24 Volts and On/Off control - $12.95

This option can be used in several ways:

Use a a 25 amp train throttle (speed control) - use as a Train Throttle to set your garden railroad speed by changing the track voltage from 5 to 24 volts and turn track power ON and OFF. I have one user doing this to run 15 outdoor trains on a garden railroad. It is ideal when you want to set the speed and use the remote on/off speed and power control.
Use to set the Maximum voltage on your track to protect smoke generators, lights or just to limit the maximum speed of your locos.
Use a a dimmer to power 600 watts of lighting - great for LEDs or bulbs. (I have used one of these to power LEDs and bulbs for a museum railroads lighting - over 1,800 LEDs can be powered with one supply)

Note you can increase the amperage to 50, 75 or 100 amps by adding additional power supplies which are designed to share the load automatically using the parallel feature built into each power supply.
----------------------------------------------------------------------------------------------------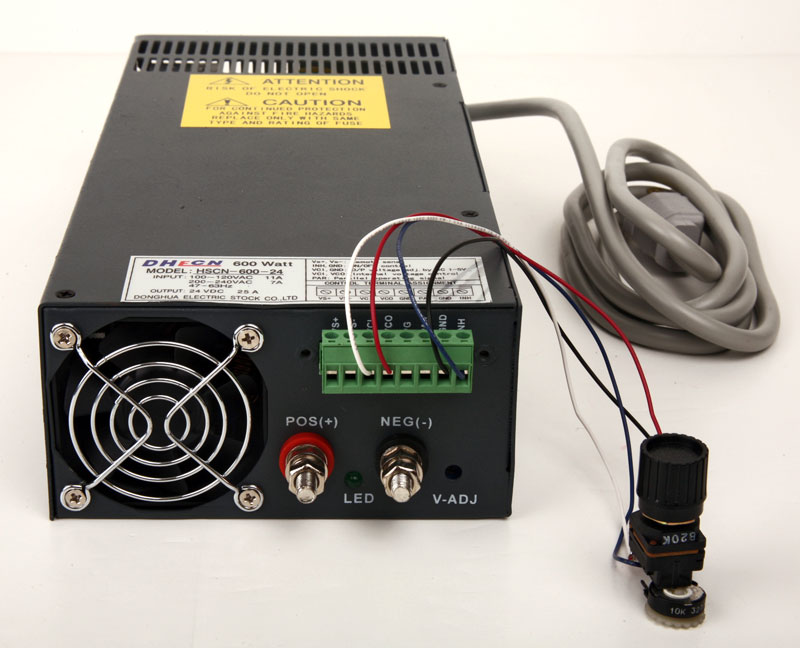 Protect your investment in trains and equipment with this any scale power supply
Click here to view a detailed product data sheet
Questions? Email info@ShourtLine.com by clicking here
Thanks for looking - Shourt Line by Soft Works Ltd.
copyright 2010 Shourt Line - Soft Works Ltd. all rights reserved