LGB 47656 Durango 8-wheel Bobber Caboose
LGB MRRC Convention Special Edition Fandango in Durango Caboose
Professionally Installed Shourt Line High High Efficiency 13 LED Lighting Package
NEW with PIKO Metal Wheels, Power Pickup, Two drop ceiling lighting fixtures with 11 LEDs, 2 LED Coach Lamps, LED controller and dimmer, with full LGB factory installed interior .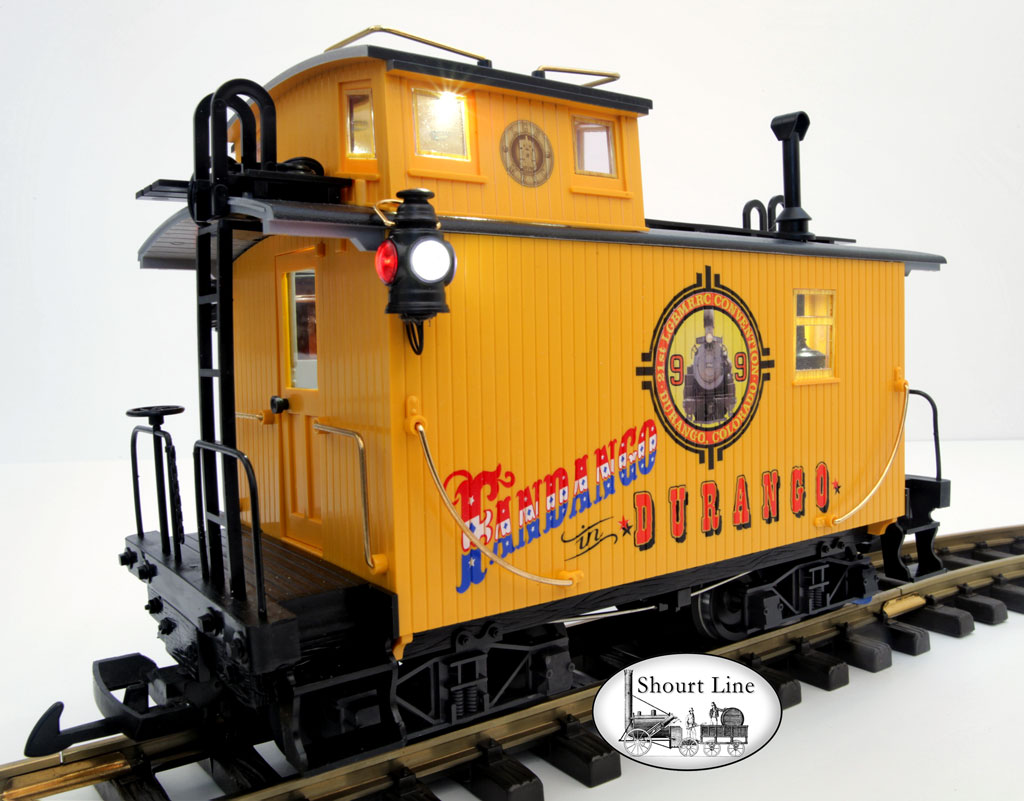 SL Discount Price: $379.95 New
Features included:
LGB 47656 Bobbers Caboose: Rare - New - Unused - Never Displayed

Full LGB factory installed interior: tables, seats, cabinets, water heater/pump, wash basin, stove coal box bunk storage cabinets, seating booth
Original set of smoke stack, vent, coupler, tool box, crate & 4 tools (see photos)
Made in Germany
Original box and packing

Shourt Line SL 8134230 11 High Efficiency LEDs on 2 each ceiling fixtures and 2 coach LEDs

11 LEDs in the caboose
2 LED coach lamps
High Output Warm White 3000 deg. K color temperature LEDs are used for warm white soft lighting in 3mm and 6mm size
All interior LEDs have a bezel mounting for a clean professional prototypical appearance
Uses only 1/6 the current of any other lighting board
Uses less than (<) 30ma on DCC power (This is less than 1/2 the power of 1 LGB light bulb)
Full Brightness at low track voltage for very slow analog train operation

Shourt Line SL 8453303 Precision Train Throttle & LED controller

Powers, controls and dims the 11 LEDs in the coach and 2 LED coach lamps
Up to 94% efficient
Very low heat output (less than 1 LGB bulb)
High Efficiency at any track voltage
Works on any track polarity (forward or reverse train operation)
Works with analog (DC), AC, or DCC track power or Battery Power 4-35VDC
Mounted on ceiling (hidden from view) in over water heater in center of the caboose

Shourt Line SL 6011604 Extreme low drag power pick-up for LGB two axle trucks

Low Maintenance - no carbon brushes
Extremely low coefficient of friction due to:

No carbon brushes
Horizontal power pickup for improved axle movement
Power Pick up at the axle for lower friction
Low force Pick-up for easy ball-bearing like movement

2 each PIKO 36161 Metal Wheel sets - 4 wheels with polished axle weights on for power pickup
2 each 18 inch black twin conductor micro cable for sharing power to cars on either side of the caboose or for powering a Shourt Line Christmas Wreath
1 each 10,000uF buffer anti-flicker capacitor is located in the water closet (hidden from view) for up to 100 LEDs.
Professional installation with hidden wires and circuitry.
Photos: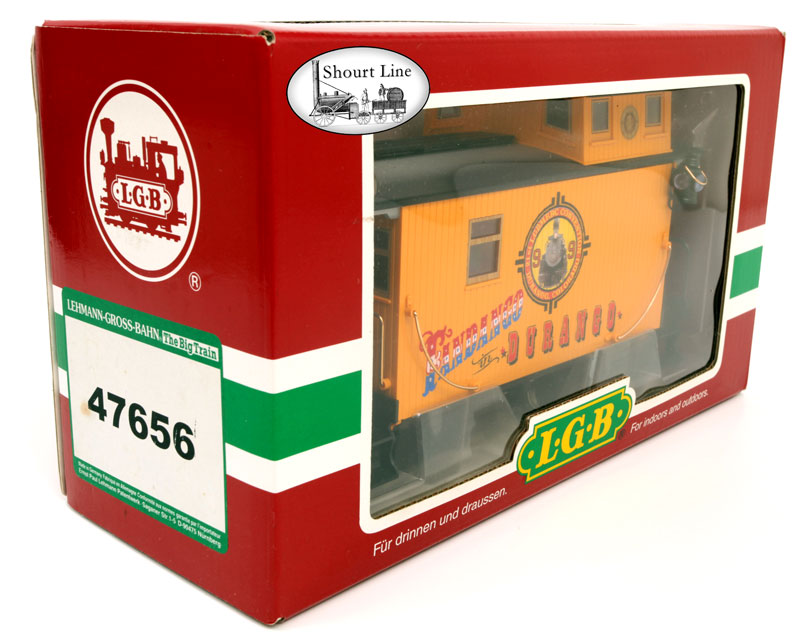 LGB 47656 Bobber Caboose New in box with many extras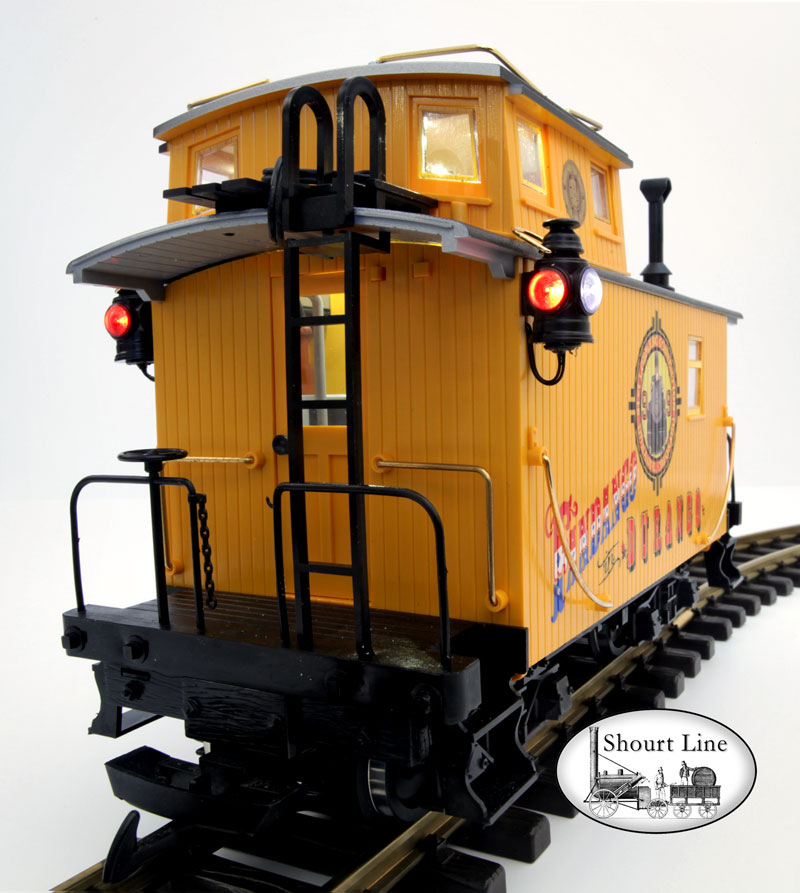 LED super bright high output coach lamps with prototypical scale wiring and Pat. Pend. snap in LED holders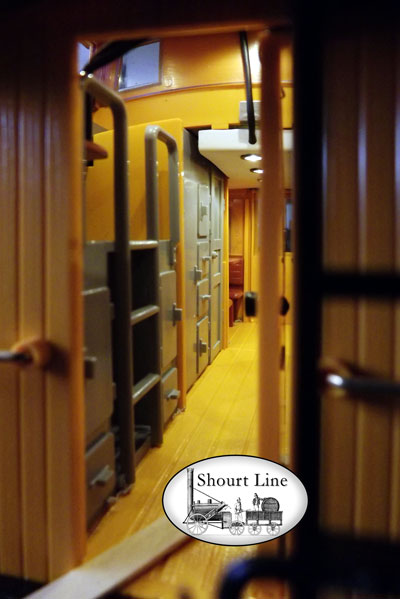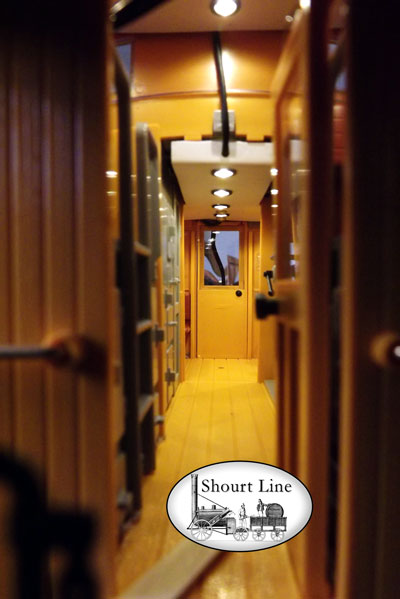 Interior view from the rear showing SL drop ceiling hiding wiring/circuitry and full factory installed interior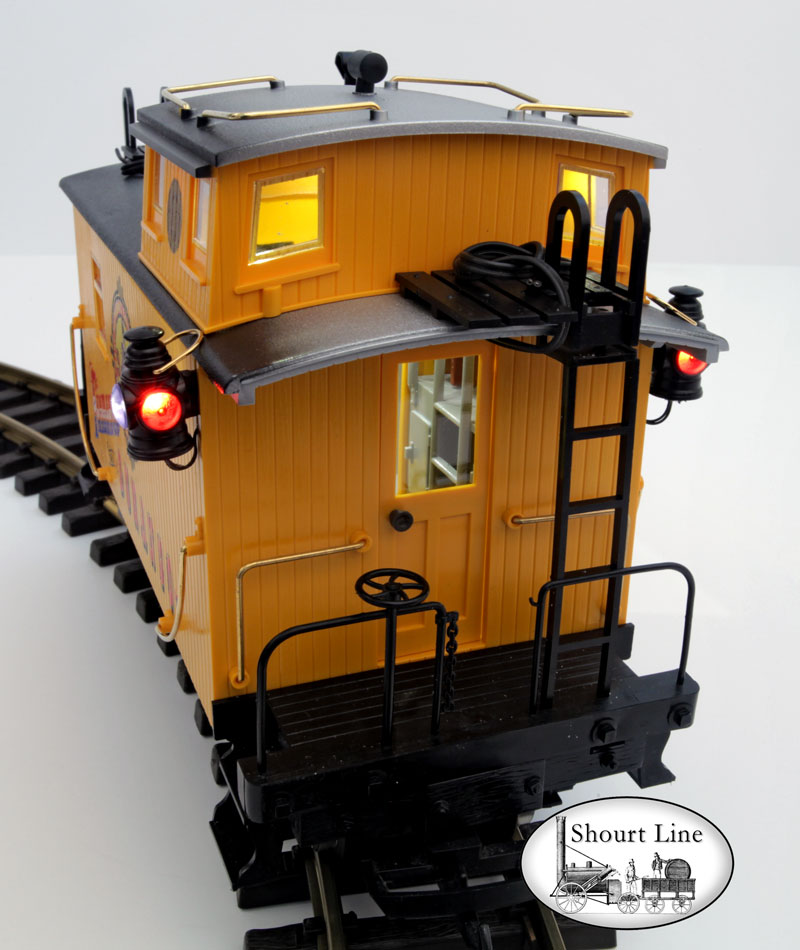 Note twin lead micro cable coiled on the roof for optional powering of cars on either side of the caboose or to power our SL Christmas Wreath that is on with only 3 volts of track power.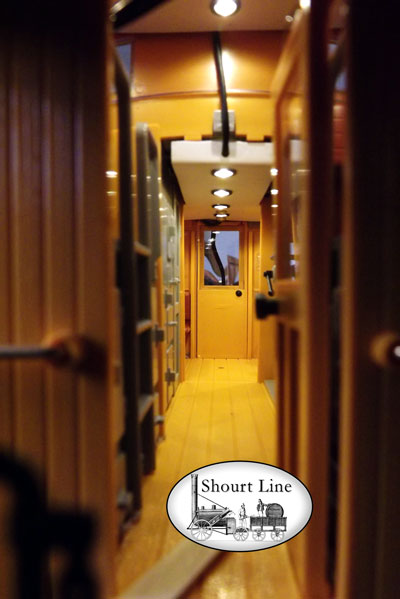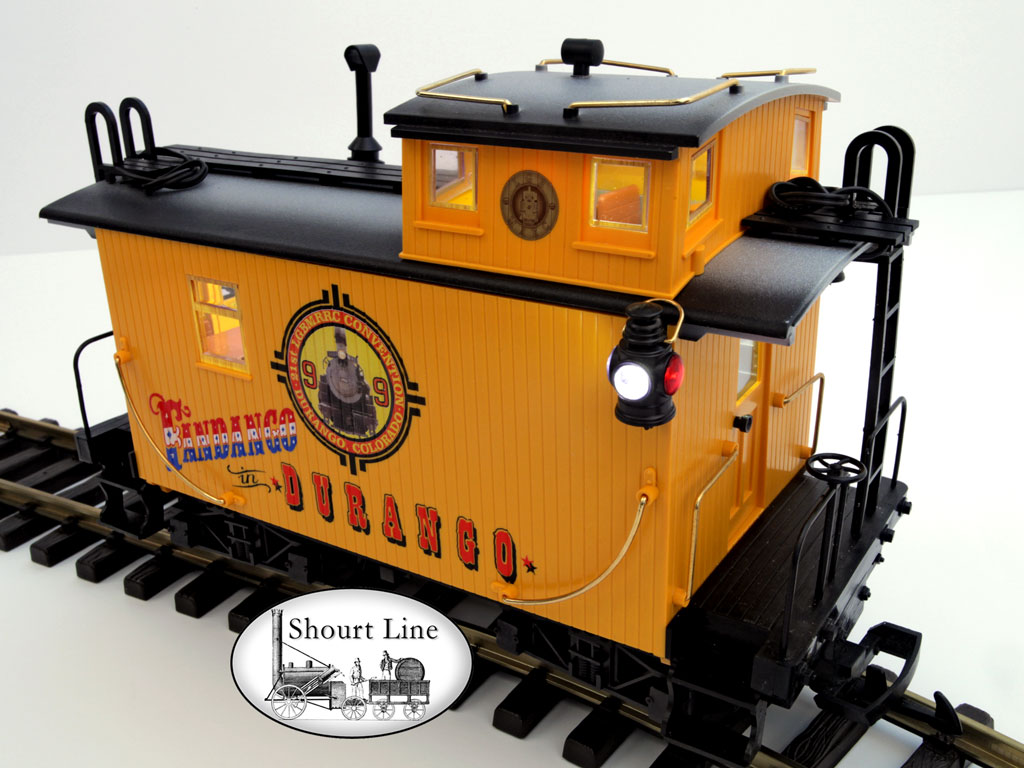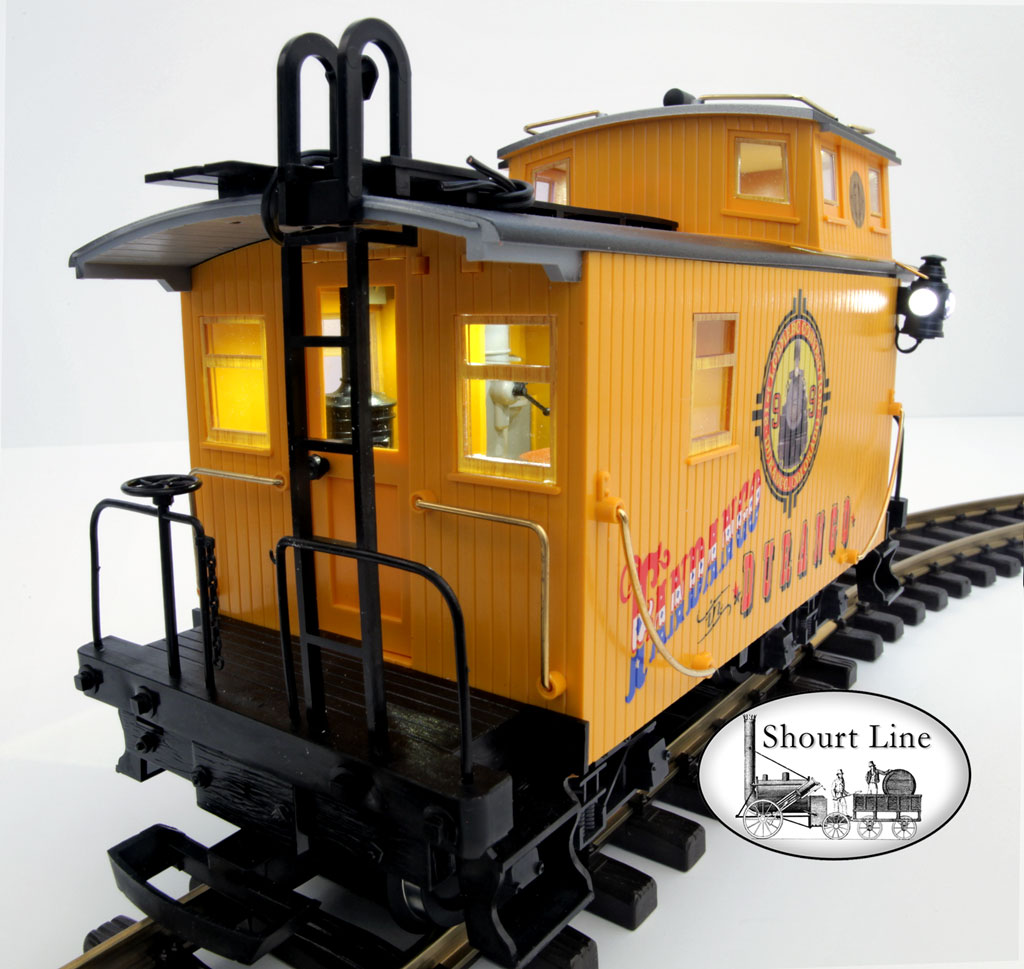 The SL Lighting system puts light on the interior in a prototypical fashion over all work surfaces and work areas without any exposed circuitry or wiring.
\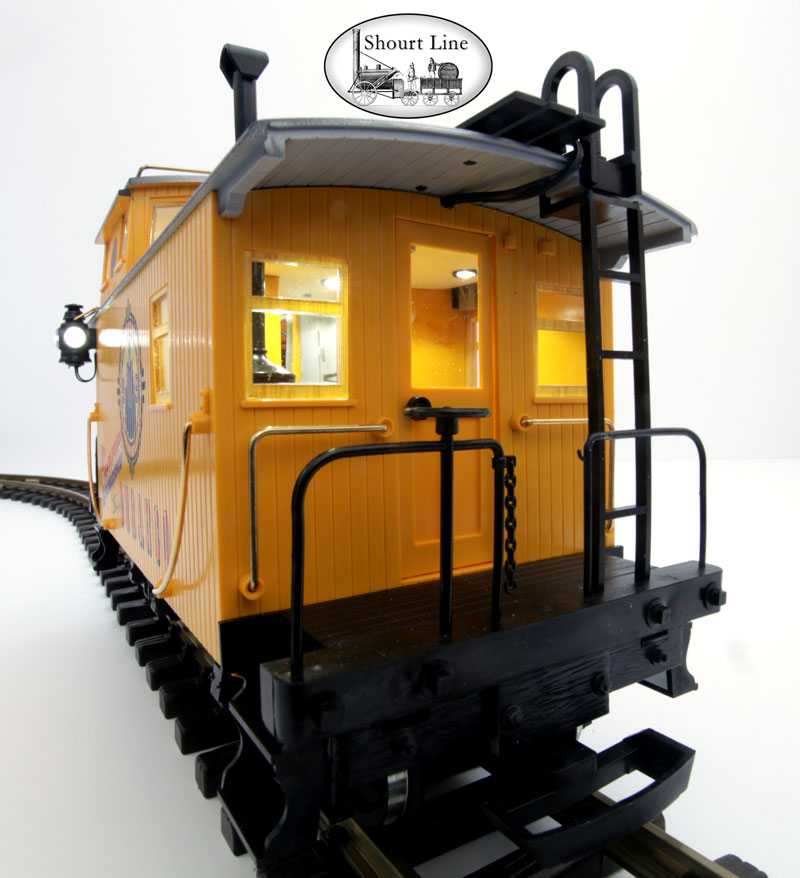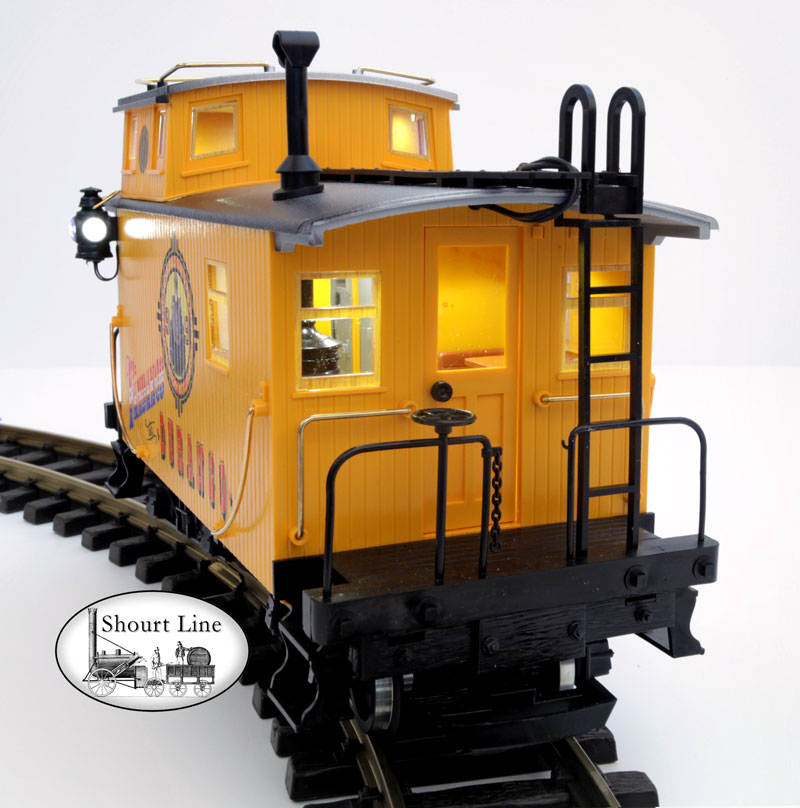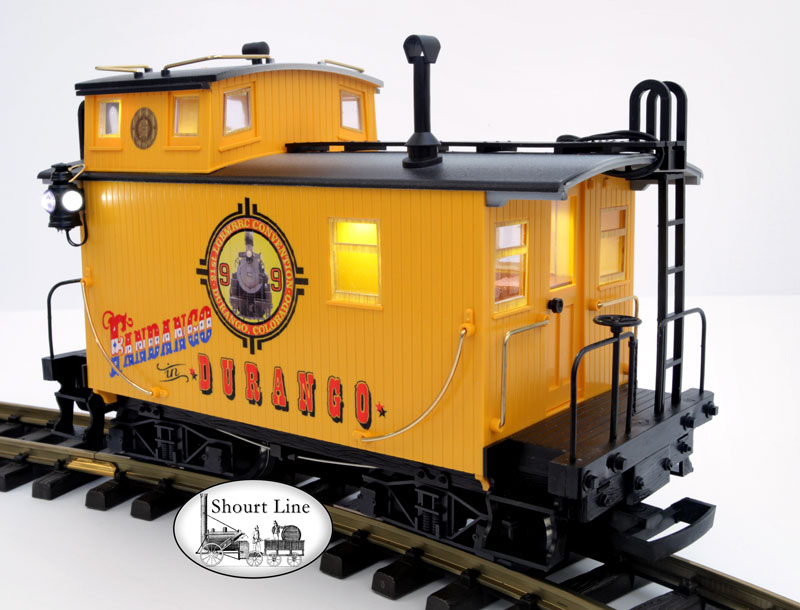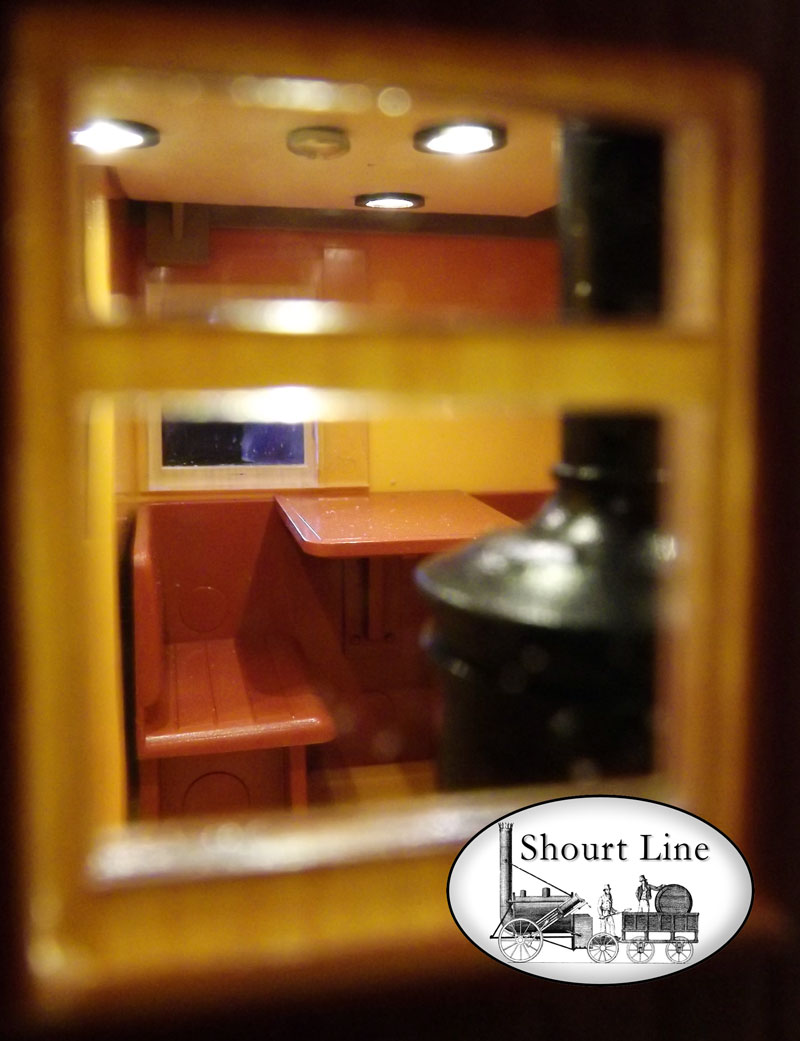 Interior view from the front side window showing the SL LED lighting over the seating booth and on either side of the stove work areas and coal bin.

Original included tools, and parts in a sealed LGB bag opened for photos.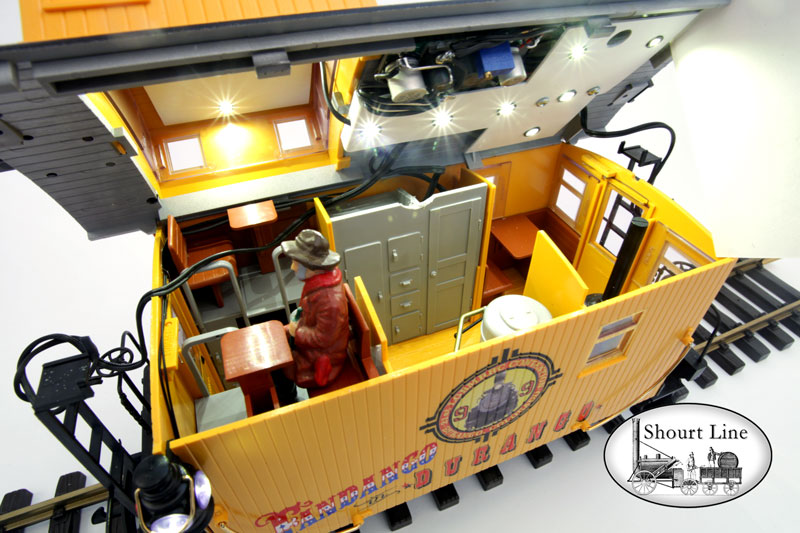 Interior view with roof lifted note that the LEDs in cupola are located over each table and over the center work area.
Note: LGB figure is not included with item but shown for scale. Yes, figures fit easily in the cupola with head room to spare!.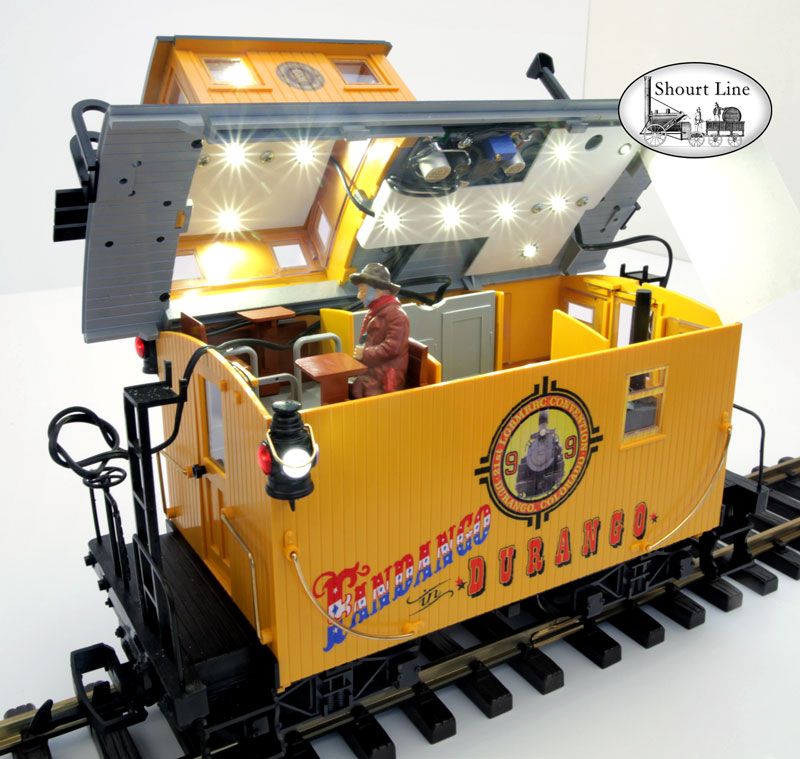 SL LED drop ceilings showing 5 and 3 mm warm white LEDs for proper color temperature and light distribution (like lighting a movie set or you own home). SL LED controller is mounted on the ceiling over the sink area out of view but easily accessed for dim the lighting as desired (note blue potentiometer on LED controller for dimming and voltage adjustment), see SL LED controller instructions for proper use.
Anti-Flicker: This car has a 10,000uF buffer anti-flicker capacitor is located in the water closet (hidden from view) for up to 100 LEDs. 20,000uF more buffer can be added in the water closet for up to 300 LEDs.
Optional UPC Gold Cap LED power: use our SL-6102104 Mini Gold Cap Power Buffer 2.5F 10.7V UPS for analog train LED lights when up to 60 seconds of LED full power is need without track power.
Optional DCC decoder Control: with remote dimming of zones of lighting in the caboose (coach lamps, cupola, rear area, center area, and front area as well as seating booth at the front of the car. Additional parallel wired LEDs in adjacent cars can easily be controlled using the Massoth 8FL DCC decoder or any decoder with PWM outputs for 8 zones of lighting and dimming via DCC. Schematics available with purchase upon request.
Power adjacent cars from the caboose track or LED power: The 18 inch micro power cables at each end of the car are connected to track power for power adjacent cars or more power to the loco. The micro cables can also be connected to the LED SL LED controller for power and control of over 200 additional LEDs in cars of your choice..
SL-8453003 Low Cost Board For DC, DCC, AC or Track Input Power pre-wired and ready to run with this caboose:

Click here for information on the SL 8453003 Precision Train Throttle & LED controller $8.49

Click here for complete SL LED Controller Install, Wiring and Application notes
Dimmer Control: Follow the directions above when dimming your LEDs. Counter clockwise dims the LEDs. Use caution not to exceed the LED maximum brightness when raising (Clockwise dimmer adjustment) the LED brightness, see application notes above for details.


Bottom view showing the wheels upgraded with 2 each PIKO 36161 Metal Wheel sets - 4 wheels on the left have polished axle weights for power pickup.
One truck (2 axles/4 wheels) is upgraded with the Shourt Line SL 6011604 Extreme low drag power pick-ups for Ball Bearing like performance with greater reliability and no maintenance problems as with carbon brush pickups..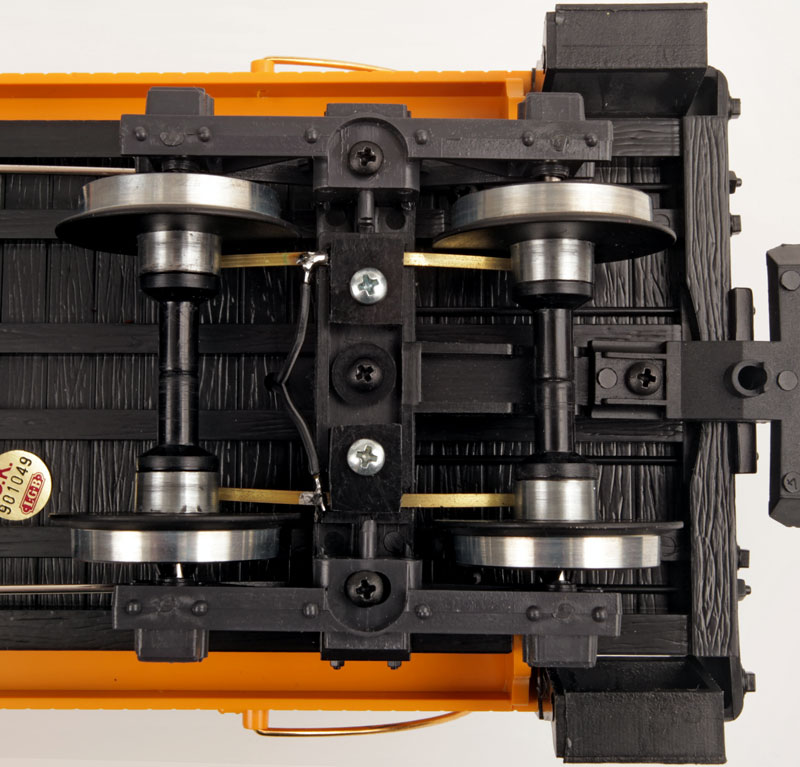 The power pickup is so low drag that the caboose keep rolling off my photo table until I blocked one of the wheels. This only happens with all ball bearing wheel cars! I did however put some of our Nano-diamond Oil on the axles and pickups which is a great way to turn all your wheels into ball-bearing wheels! Check our store for the soon to be released Nano-Diamond Oil that has solid 4 nanometer spherical diamonds (ball bearings) to keep your all your wheels rolling.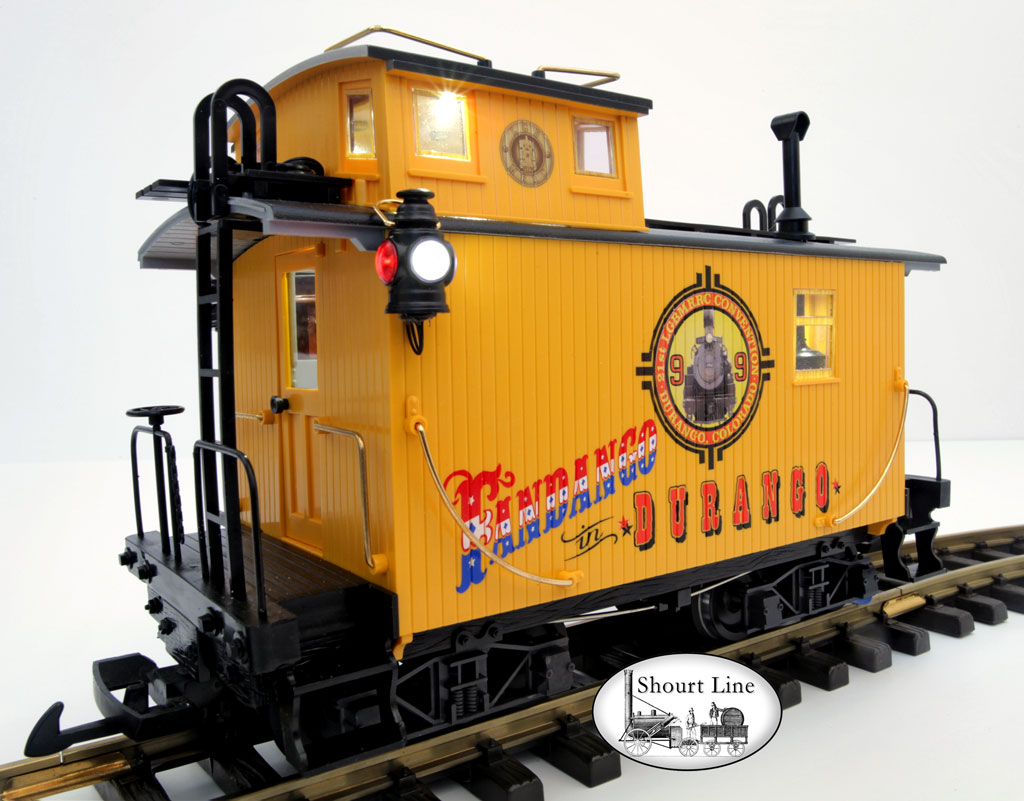 Don't miss the caboose, it will be coupled to a train shortly and pulled away.

Questions? Phone 310-622-4431
Thanks for looking - ShourtLine.com by Soft Works Ltd.
copyright 2014 Shourt Line - Soft Works Ltd. all rights reserved