G Scale Shourt Line LGB 72327 HLW 15105 G Scale Ultimate Hybrid 71 LED Passenger Christmas Train Starter Set
New Hybrid 71 LED lighting, works without track power
An LGB classic passenger train set and H-L-W collectable - ready to run
From an Authorized LGB Dealer - Limited Edition by Shourt Line
This limited edition set features 12 nutcrackers, 16 Christmas trees and the 71 LEDs automatically turn on and off after track power is lost for 2 minutes or use the hidden magnetic switch to light up all 71 LEDs over 4 hours without any track power!


Comes with LGB original instruction manual, documents and factory box with packing for safe storage and shipping.
Shourt Line Direct Discount Price: $1199.95 NEW never run limited edition

71 LED Ultimate Hybrid Christmas Starter Set Features:
The set features Shourt Line upgrades to the the standard LGB 72327 Lake George & Boulder passenger starter set and Hartland Locomotive Works HLW 15105 Short Christmas Gondola to create an ultimate hybrid Christmas train set with 71 LEDs, 12 Nutcrackers and 16 Christmas Trees.

The LGB 72327 set comes standard with a 4 foot circle of solid brass track, AC adapter and throttle for 0 to 20 volts at 1 amp of track power and a loco and two cars.

This upgraded set includes a limited edition HLW 15105 XMAS Red&Green short gondola with an animated color changing crystal clear Christmas tree, LGB 65154 Diamond Smoke Stack w smoke fluid -on/off switch, 12 Nutcrackers, 16 Christmas Trees and 71 LED professionally installed hybrid lighting system.

All 71 LEDs have been professionally installed with easy disconnect power connectors between the loco and all cars. All wiring and circuitry is hidden for a prototypical appearance.

The set has 71 LEDs, 55 are animated in 8 waterproof bows of garland with 5 LEDs each, a crystal clear multi color Christmas tree, a firebox with simulated fire effects, a 12 LED Christmas wreath, 14 Tiffany white opal lamps plus 1 super bright LED headlamp.

All 71 LEDs operate with or without track power and automatically turn on when track power is present and stay on for 2 minutes after track power is removed.

A hidden magnetic two position switch can be used to manually turn all 71 LEDs without any track power or even track, for 2 minutes or over 4 hours without any track power. The hidden 9 volt 880 mAH Li-ion 9 volt rechargeable battery provides full power to all 71 LEDs when track power is not available as when the train makes a station stop or for extremely slow loco operation.

This Shourt Line hybrid power system is the first of its kind for model railroad lighting. It features up to 94% efficient operation via 3 DC to DC converters hidden inside the coal and water bunkers in the loco.

The train is super charged with the following lighting upgrades and extras:

1 each Installed LGB 65154 Diamond Smoke Stack with smoke fluid and on/off switch
8 each draped Christmas garlands each with 5 animated amber blinking LEDs.
An SL 8410117 12 LED blinking Christmas wreath at the rear of the last car.
Each car has 6 and the loco has 2 for a total of 14 SL LED Tiffany opal white LED fixtures.
An upgraded loco headlamp featuring an extremely bright white LED in place of the 24 volt bulb that comes with the stock set.
A custom SL 4 LED firebox light with random fire simulation.
A crystal clear Christmas Tree with automatic color changes and magnetic mounting in the center or at the end of the gondola
An SL hybrid lighting system featuring 3 separate hidden LED controllers that efficiently and automatically control all 71 LEDs when track power is present and uses track power when available and battery power when track power is off.
A hidden magnet activated switch to keep all lights on all the time or turn off lights after 2 minutes of no track power.
A 880 mAH Li-ion 9 volt battery and charger for power all 71 LEDs without track power.
12 Nutcrackers; 6 with working jaws, 6 with moveable arms
16 G Scale Christmas Fur Trees in 4 sizes
6 Christmas Candy Canes
Videos:
Photos: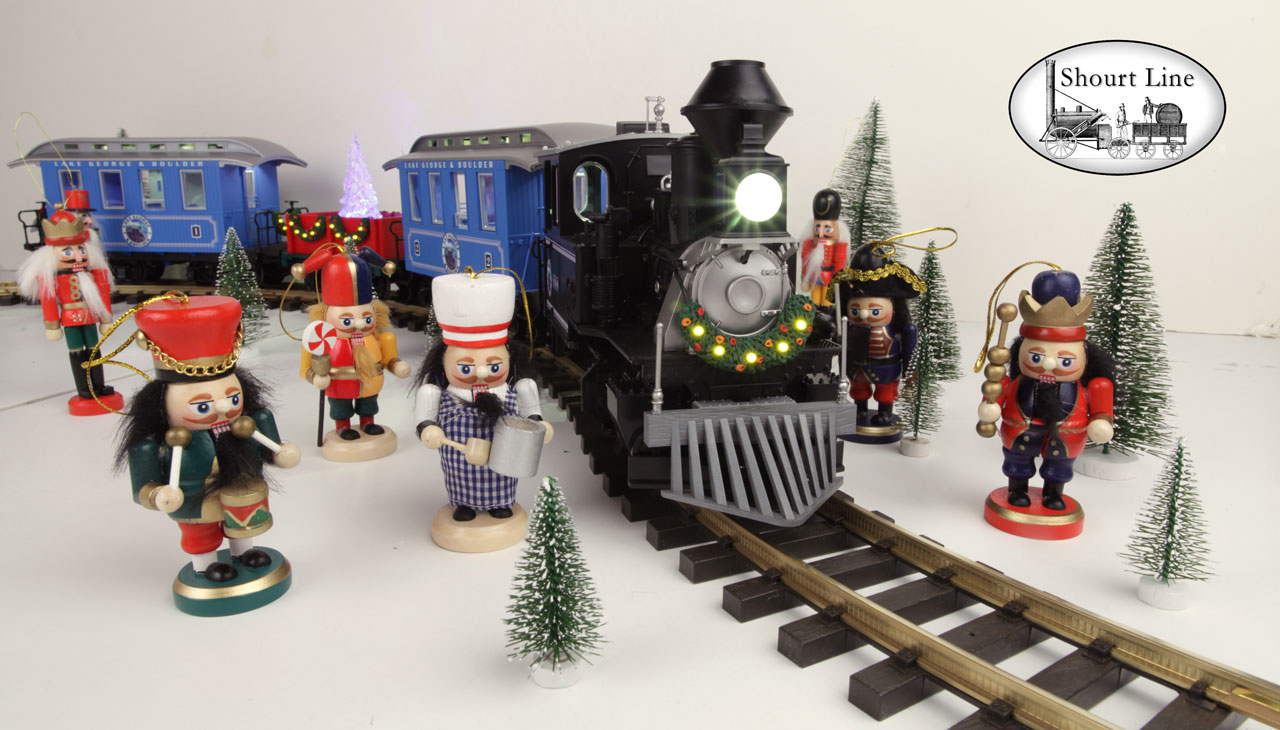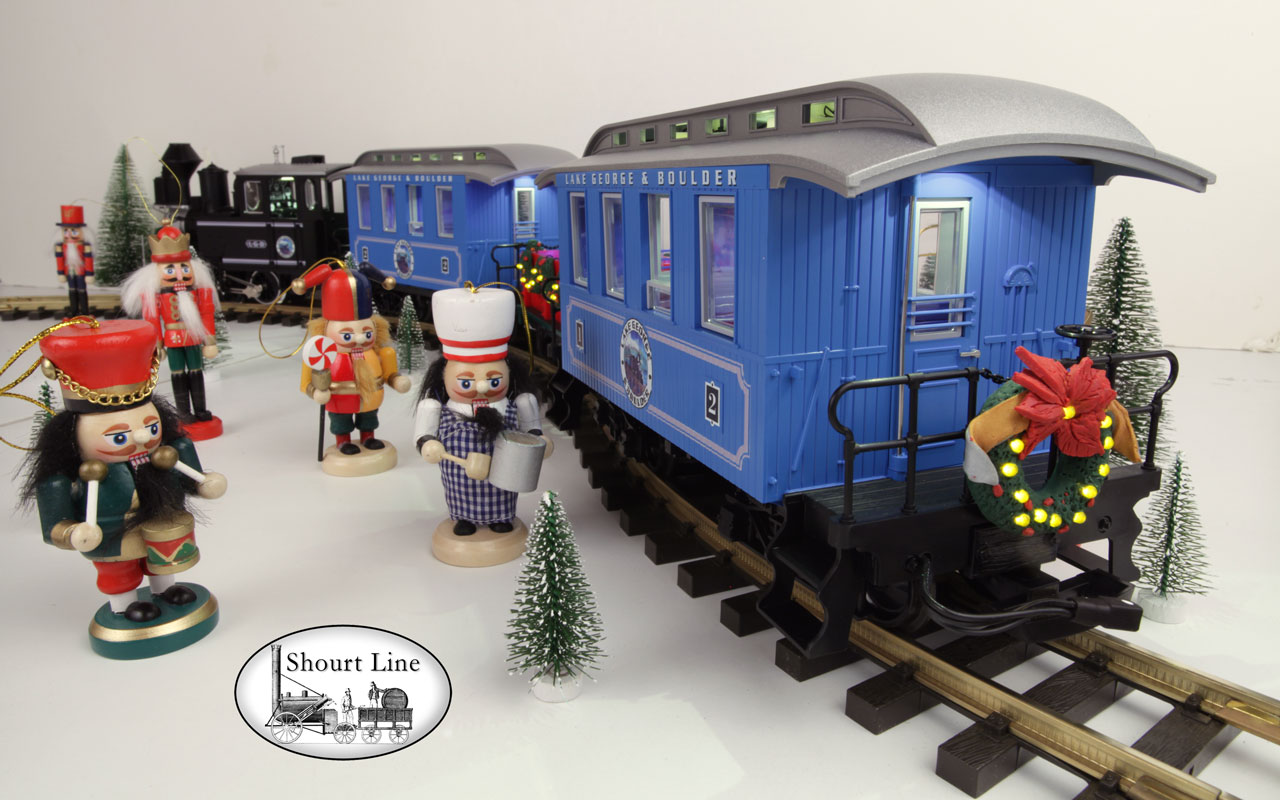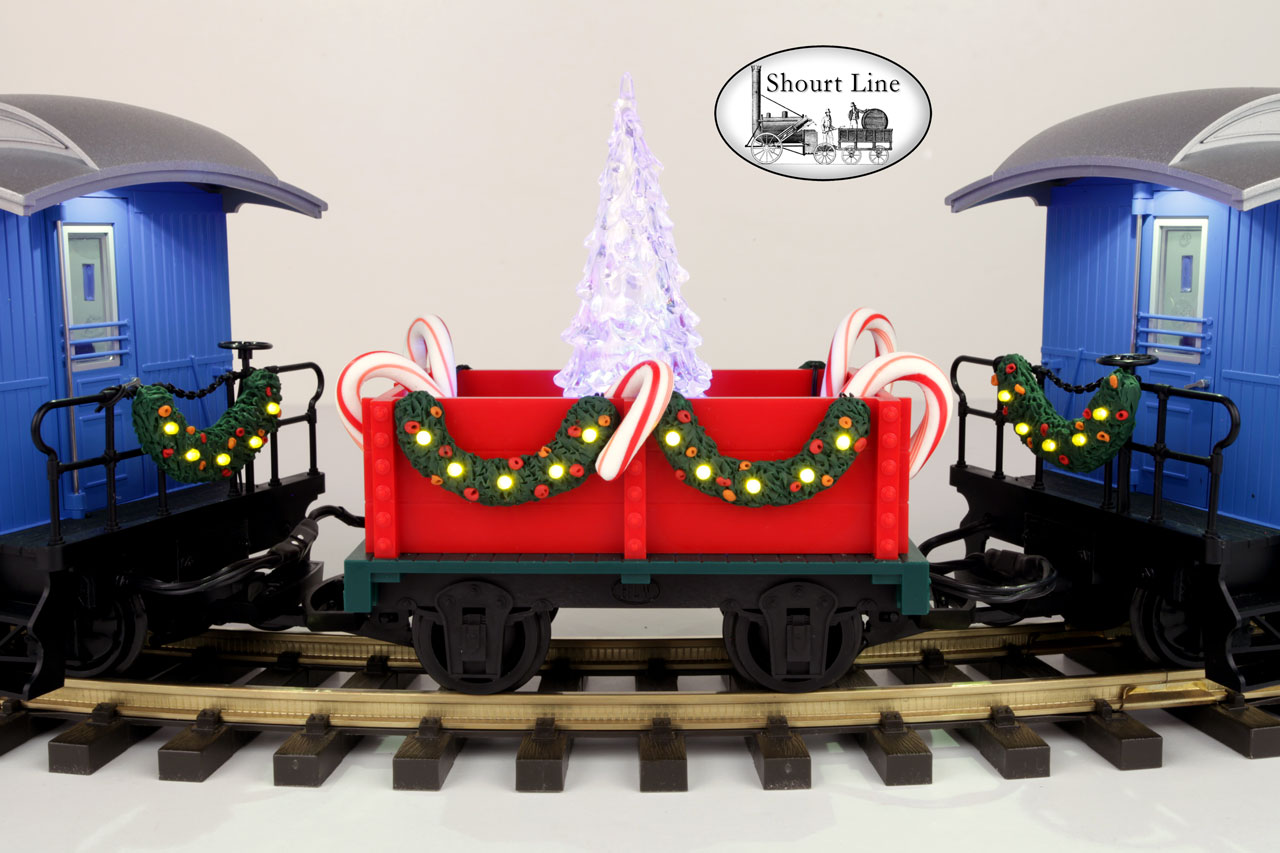 Yes, 6 Christmas Candy Canes come with the set. You can add other candy or items to the gondola and move the tree to one end or unplug it use it track side in stead of in the car.



Notice that all 71 LEDs work over 4 hours without track power or even track!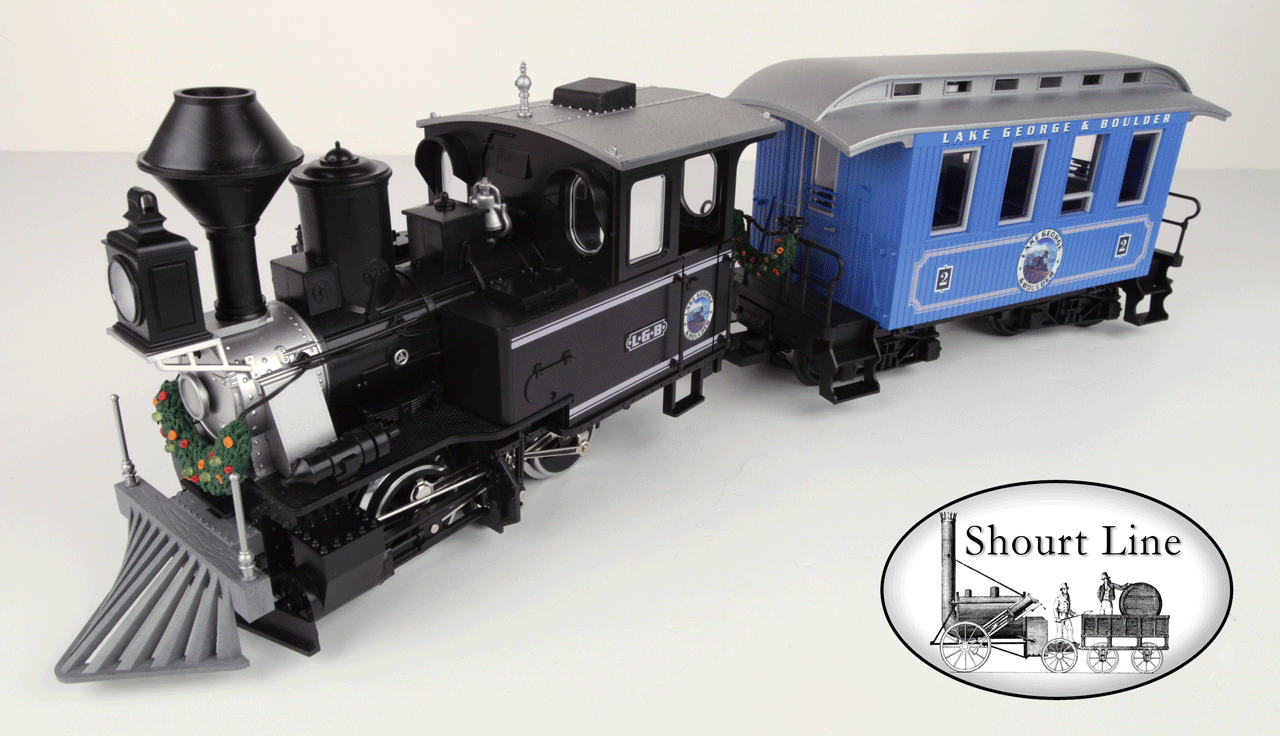 The hybrid lighting system features a hidden magnetic switch so you can force all 71 LEDs to turn on with one finger or by passing a magnet near the finger position in this animated photo
Set includes the LGB original factory box and foam carrier for safe storage and shipping

The set can be setup in minutes and includes everything need and both run and decorate your layout for the holidays!
Don't miss this Limited Edition Ultimate Christmas Train Set!

For indoor or outdoor use.
Questions? Call us 310-622-4431
Thanks for looking - Shourt Line by Soft Works Ltd.
copyright 2016 ShourtLine.com - Soft Works Ltd. all rights reserved