ESU N, TT, HO, On30, O, S, G Scale Electronics & Products for Railroading and Model Building
Shourt Line Discount Price Lists
Click below to view each
New 2016 LGB Discount Price List
New 2015 ESU Train Electronics Discount Price List
New 2016 PIKO Discount Price List
*Shourt Line Members get additional discounts off PIKO SL Prices
New 2015 Hartland Locomotive Works Discount Price List
Free shipping on Hartland orders over $1,000.00
New 2015 Shourt Line, Phoenix & Massoth Discount Price list
ESU products include Decoders for DCC and all other protocols with and without digital sound as well as programming & testing tools and accessories. A full range of speakers with and without baffles are also in stock and ready for shipping.. ESU model railroad products work with G, O, HO, N and TT scales.
Click here to visit ESU web site
ESU products
ESU 54500 LokSound XL V4.0 Decoder w screw terminals for Analog, DCC & MTS 12W Sound, 4Amp Motor, 12ea .5A Outputs, 4 Servo Outputs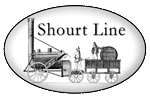 All ESU Products offered at Shourt Line Discount Prices
Questions? Call 3110-622-4431, Email info@ShourtLine.com
Thanks for looking - Shourt Line by Soft Works Ltd.
copyright 2015 ShourtLine.com - Soft Works Ltd. all rights reserved