4 ea G Scale Sound System Activation Track Sensor Magnets
SL-HiTMRP-1705 Part No.: 4451705
Top of Railroad Tie .5" Diameter Smooth Finish, Low profile, Maximum Strength + 3M adhesive mounting pads attached to each magnet
Functionally equal to 4 each LGB 1705 track magnets
Trigger Bells, Whistle & Horn or Decoder functions at 4 Desired Locations

For all G SCALE SOUND SYSTEMS & Decoders Massoth, Sierra, Phoenix, LGB AND All Others
Works with ALL G scale track and trains with either Analog or DCC track power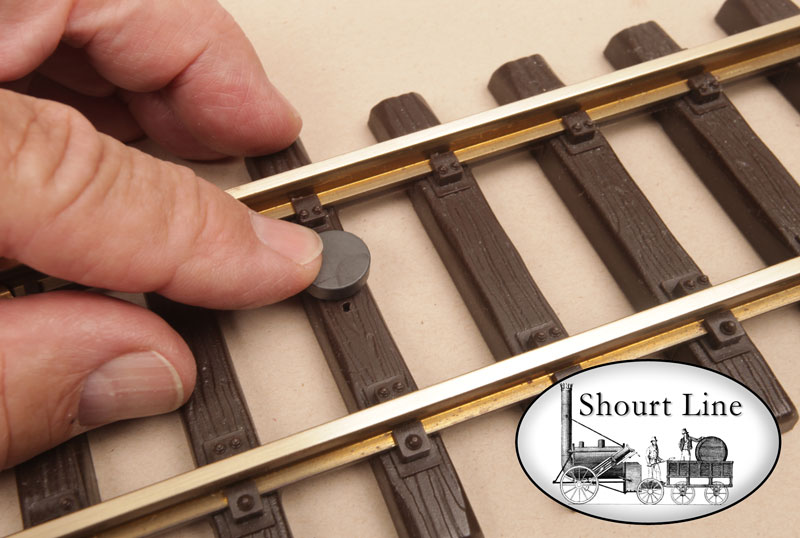 This auction is for 4 each sound activation track activation magnets (1 of the 4 magnets is shown above - track not included)
Shourt Line Discount Price $4.95 package of 4 each - New
Features:
4 each individual 1/2 inch round sound activation magnets
Easy peel and stick installation
Top of railroad tie mounting on straight or any curved G Scale Track
Equal performance to the LGB 1705
Works with all LGB G scale track and many other manufacturer's track
High Strength greater than LGB 1705 - operates any standard factory mounting height reed switches in locos or cars
Low Height - lower height than LGB 1705 and will not interfere with locos or rolling stock
Install anywhere - works on straights, curves or switch tracks!
Ferrite magnet with smooth finish and each magnet has a 3M outdoor adhesive pad attached.
Indoor or outdoor use
Specifications:
Mfg: Made in the USA

Weight: .2 Oz.

Dimensions of each magnet: .5"Dia X .2"H
Photos:


3M outdoor adhesive pads come with each magnet. The red seal protects adhesive until you are ready to apply the magnet to the top of your railroad tie.


Top of each magnet showing smooth weather resistant finish and the low profile to prevent contact with locos and rolling stock.
Installation instructions
Locate the center the railroad tie where you want to activate your sound or function.
Clean the top of the tie with rubbing alcohol and paper towel to remove any oil, grease and dirt.
Use the hole in the center of some ties to locate the center point of the tie.
Place the magnet to either side of the center of the tie as shown below (left for bell and right for horn/whistle)
Peel off the red cover protecting the 3M outdoor adhesive pad
Press firmly down on top of magnet to secure in desired location.
Note that some locos require placement on straight sections of track due to the location of the locos reed switches but in all cases the magnets must be placed to either side of the center of the railroad ties as shown below. Eye glass alchol cleanding tissues as shown below are a convient way to clean the tie.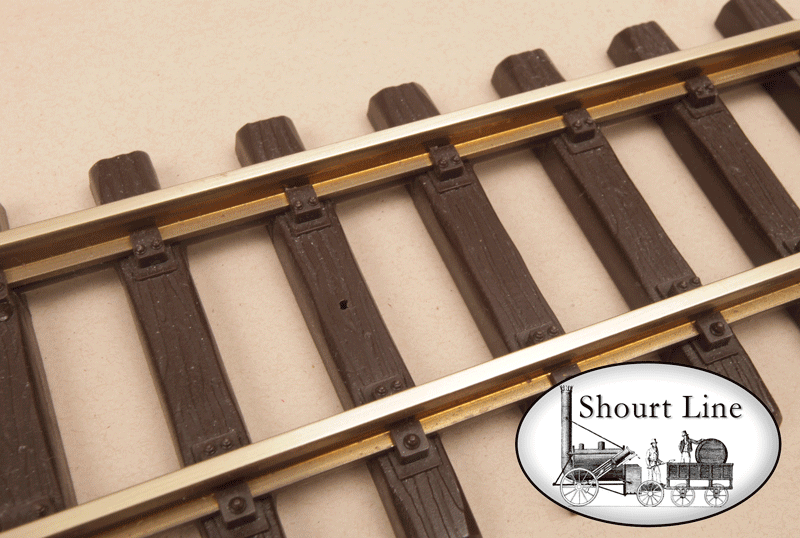 Use on both Analog and DCC/MTS layouts.
Track magnets are usually placed where a railroad engineer would blow his whistle/horn (station entrances, crossings, blind curves and tunnels. Use track magnets before stations to automatically sound your locos bell to alert passengers.

In this way every loco follows the rules of the railroad even if the engineer might be busy with other chores.

For indoor or outdoor use.
Questions? Call the ShourtLine at 310-622-4431 or drop in for a demonstration
Thanks for looking - Shourt Line by Soft Works Ltd.
copyright 2013Shourt Line - Soft Works Ltd. all rights reserved